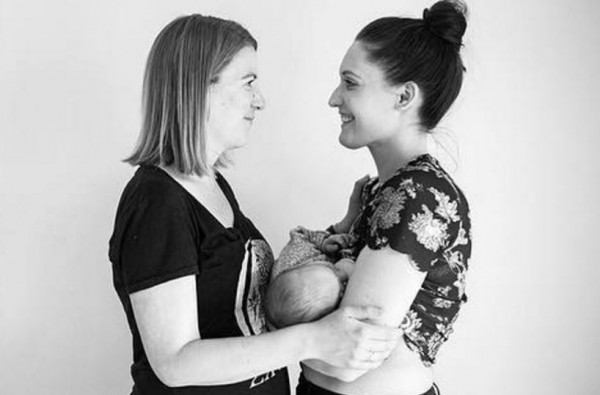 In a bid to raise awareness of same-sex families, Claire and Steph Eden-Mcllroy asked birth photographer Lacey Barratt to capture them both breastfeeding their baby. And we are so glad they did.
Claire gave birth to LJ four weeks ago, and, in order to also be able to produce milk, Steph (on her midwife's advice) took breast milk production hormones.
She also stimulated milk production by regularly using a hospital-grade pump, according to Daily Mail Australia.
Sharing the photos on Instagram, Lacey wrote:
"Can we talk about breastfeeding and same-sex couples for a minute?
"Can we talk about how NORMAL this should be? Having a desire to share the responsibility with your partner is normal and POSSIBLE.
"Ladies, did you know, that you DO NOT have to be the birth mother in order to breastfeed? Adoptive parents, surrogacy parents, you can breastfeed your baby!
"Same sex male couples, did you know that you can find a woman to wet nurse your baby? Have donor milk? SNS?
"The possibilities are endless, and should be respected as a heterosexual couple is. [ps if you know this gorgeous couple. please refrain from tagging.]
"I also, will not tolerate ANY bullying or name slinging on this page. ever.
"Equality is deserved by everyone."
And unsurprisingly, the comments were nothing but positive:
"This is such an important topic, thank you so much for shining light on it," wrote one.
Another said: "My wife and I adopted and explored the possibilities of breast feeding but ultimately decided it wasn't right for us. This is beautiful, every family has their own path."
Do you have an incredible story you'd love to share? Click here to be in with a chance of winning £250.