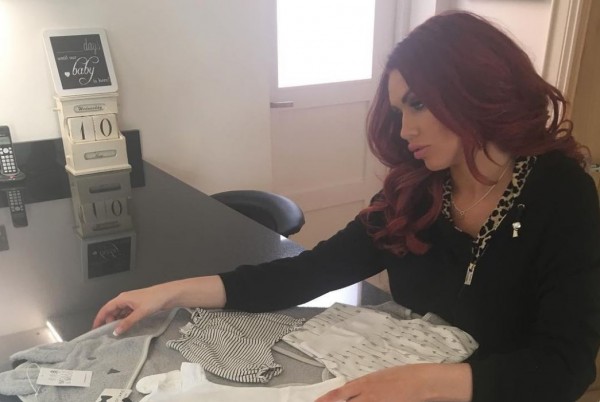 She has been teasing little snapshots of her new life as a mother for the past two weeks, and now Amy Childs has finally introduced her newborn daughter to the world.
The former TOWIE star and her partner, Bradley Wright, posed for an exclusive photo shoot for OK! magazine, with their bundle of joy, Polly.
In an accompanying interview, 26-year-old Amy opened up about new motherhood and the exciting plans she already has in place for the tot's bright future.
While she may only be two weeks old so far, reality star Amy revealed that arrangements have already been made for Polly to start in a 'posh' school in three years' time.
"I just want the best for her. I've already signed her up to a private school in Brentwood. She starts when she's three. She's going to be a little bit posh. I want to give her everything," she said.
And it looks as though little Polly may be set to follow in her famous mum's footsteps, too. On the same day that Amy unveiled her new baby range, she revealed that Polly will play a starring role in the campaign!
"Polly is going to be the model," she explained. "There's a little bit of bling – headbands, tiaras and tulle skirts over onesies, as well as frilly knickers, nappy covers and little socks. I've been working on the collection for about six months."
According to her announcement Instagram post, the range will cater to children from newborn up to five years. We can already tell it's going to be very glam!
Amy's glossy magazine cover comes just a week after she opened up about her birth experience, admitting that it left her 'in shock'.
Recalling her 27-hour-long labour, Amy wrote in her new! column: "My labour was so long and hard – it was 27 hours!...Labour is bloody painful.
"I had to have an epidural in the end as it was all too much…I had to have two stitches."
Like fellow mums Rochelle Humes and Kim Kardashian, Amy has not only chosen placenta encapsulation to help her along the recovery process, but she is sharing her experience on social media.
We're looking forward to getting many more insights into Amy's life as a mum – knowing her, it will be full of glitz and glamour!