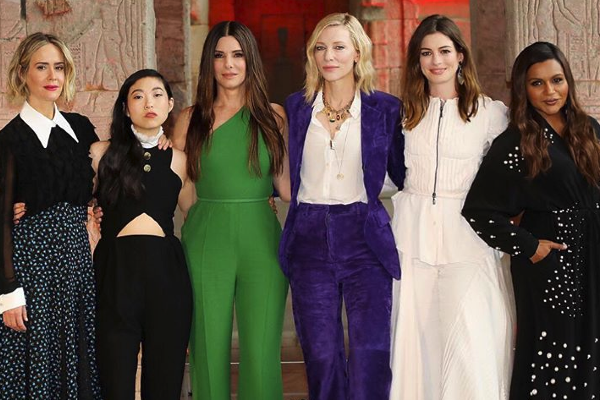 Picture via Instagram
Ocean's 8 opened this last weekend with a whopping $41 million box office debut, outperforming every other film in the franchise.
Not only is the heist movie rolling in the big bucks, but its cast also seems like a genuinely lovely group of women. The old myth of female competition in the workplace is dead - these ladies killed it with kindness.
One especially heartening story was that of Anne Hathaway, who was breastfeeding her son Jonathan Shulman during the filming of Ocean's 8.
She shared in a Today Show interview, "I was so happy because I was breastfeeding and I had that moment where I was like, 'Oh, is this going to be a positive environment to be able to do that in?' Everybody was fantastic and they understood."
The 35-year-old actress continued, "I remember there was one moment where we were shooting a little long, and I just kind of went, 'Uhhh,' and the girls were like 'What's wrong?' And I said, 'I'm sorry, I should have pumped an hour ago.'
"And the girls just, like, formed around me, and they were like, 'We need a break. We need a break. Annie needs to go do this.' And it was just, like, I mean, who gets that? Everybody should."
This anecdote feels especially significant considering that not all new mums are given the same amount of support in the workplace. Hopefully, this is the beginning of a new trend!
Co-star Mindy Kaling said it was nice to see, now that she's a mum herself, that being a parent can 'weave into your life seamlessly'.
Sandra Bullock reiterated that she felt especially 'safe' and 'protected' on the set of Ocean's 8. Sure, they even helped each other with Halloween costumes!
We can't wait to catch the film in cinemas, if only to bask in the chemistry between these wonderful actresses!