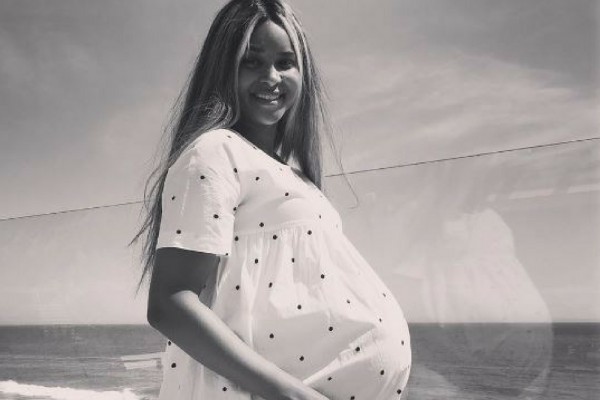 There's a bit of a baby boom in celeb land lately, as several celebrities have welcomed new babies recently.
The latest celebrity to have a baby is no other than Ciara. The singer gave birth to a little girl, who she's named Sienna Princess Wilson.
It's Ciara's second child but her first with her husband Russell Wilson. Ciara, 31, has a two-year-old son, Future Zahir, with the rapper Future.
She announced her exciting news with an Instagram photo of her sitting on the beach and writing: "Dear Sienna Princess Wilson, No matter how big the wave, we will always be your calm in the storm.
"Love, Mommy and Daddy. Photo by Daddy."
Ciara also included some details about her daughter's birth, the little girl was born at 7:03 p.m. yesterday evening and weighed a healthy seven pounds, 13 ounces.
The star's fans were quick to congratulate her on her new arrival, with one posting: "Awww! Congratulations on your angel baby Ciara and Russell Wilson."
Another added: "OMG! OMG! It's a GIRL! Major congratulations to you two, two great people truly worthy of such a blessing!"
One fan complimented the name writing: "Such a beautiful name! Congratulations!"
Ciara had a scare earlier this year when she was involved in a car crash while pregnant with Sienna. Her spokeswoman said another vehicle struck the passenger side of Ciara's car, according to The Irish Independent.
The singer – who was in her third trimester at the time – was seen leaving the vehicle "clutching her chest and shoulder" and speaking on the phone. Luckily she and her baby escaped harm and she later took to Twitter to reassure her fans that she was fine.
Ciara expressed her relief after the crash, tweeting: "Thankful for God's grace and amniotic fluid."
Earlier in her pregnancy, Ciara drew ire from fans for posing for a pregnancy photo shoot which some people deemed "inappropriate".
A picture of Ciara cradling her two-year-old son, Future, while husband Russell Wilson hugs her from behind led to many attacking the singer, claiming the photo shoot is directed at her ex-partner, Future Snr., the father of her first child.
We're delighted that her baby has arrived safely, congratulations to the couple.