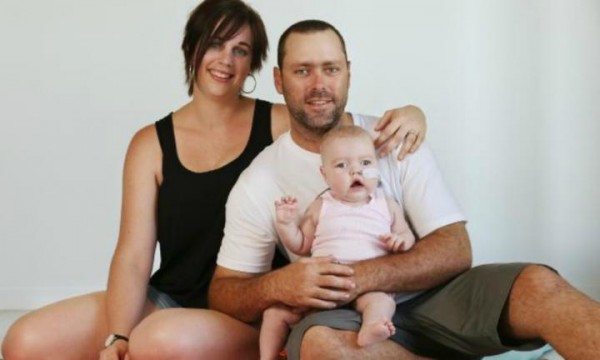 Having to watch as your child undergoes a major operation is extremely hard for parents.
So spare a thought for this mum and dad whose little girl has undergone three open-heart surgeries!
The story is all the more striking since the child's heart has "more holes than Swiss cheese."
The miracle baby from Cairns in Australia fought the odds through the three major heart operations, as well as an operation to fix a perforation in her small intestine and a pacemaker implantation.
Mother Erin Neibling said that arriving home last week was a relief after she and her husband watched their first-born spend six intense months in hospital.
"She spent four months in ICU and two months in the cardiac ward," she said. "She's a very strong little girl. She is coping well. She has had a very rough run."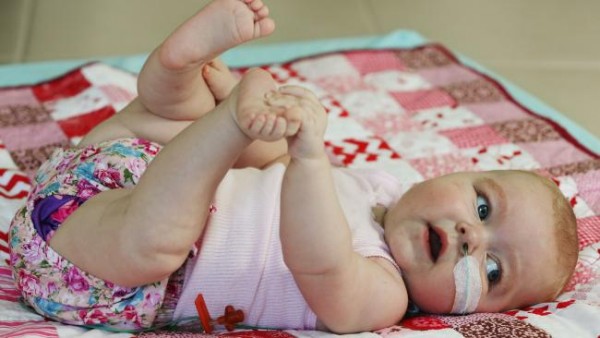 Little Kyah was three months old before doctors found the wall dividing the left and right ventricles of her heart had a 2.47cm hole. "She was okay until about six weeks of age," said Erin.
"Then she was just failing to thrive. It was very difficult feeding, she had no energy, wasn't growing and she was fast breathing. She was in heart failure."
Erin took her little girl to the doctor but was sent to hospital, where Kyah spent six days before being flown to another hospital – home to a top paediatric cardiology team.
The relieved mum said doctors spent nine hours ­trying to patch Kyah's tiny heart in her first surgery in September, only to find five more holes during the operation.
"I couldn't really process it at the time … The surgeon said: 'See you in four hours,' " she said.
Ms Neibling said she was beyond thankful to the team that treated Kyah.
"There were a lot of times we were thinking we wouldn't be bringing a baby home," she said.
"They saved her life."
SHARE if you think this girl is one serious little fighter!