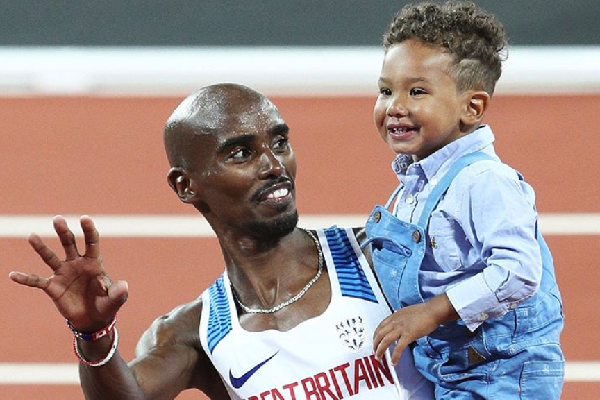 Picture via Instagram
World 10,000 metre champion Sir Mo Farah deserves HUGE congratulations for being voted BBC Sports Personality of the Year.
....And his son deserves an award for being the best scene stealer of the year!
The 34-year-old father tried to keep his son happy while they video called into the ceremony, but little Hussein continued to wriggle around like a piece of jelly.
We understand, sitting still is the worst!
What a night for Mo Farah and his family.

His young son Hussein was proving a handful earlier though #SPOTY 2017 pic.twitter.com/0v1iYTBzYf

— BBC Sport (@BBCSport) 17 December 2017
The gold medal Olympian handled the situation with aplomb, smiling widely as he tried to calm his son.
Mo's stepdaughter Rihanna also did her best to soothe her upset little brother.
Who knows, maybe Hussein's hyperactivity means he'll be an athlete like his dad!
.Mad Mo is ready...!!! Bring it on boys...!! I'm good to Go..!! #roadtolondon #onemomile #mudaneteam #mudanegroup #madmo pic.twitter.com/5fYB6t4M12

— Sir Mo Farah (@Mo_Farah) 28 July 2017
The gold medal Olympian won the title with 83,524 votes, almost 3,000 more than World Superbike champ Jonathan Rea, who came in second.
The Somali-born distance runner has certainly captured hearts with his tenacity. Mo won his third gold medal in the world 10,000m in London this August, even though he almost fell twice late in the race.
He also has a very active social media presence, with 665K followers on Instagram and almost 1.6M Twitter followers.
Mo was humbled upon receiving the award, saying, "It is pretty amazing and hard to think about. I didn't imagine I was ever going to win this but anything can happen.
"If you work hard you can achieve your dreams. I am sorry I could not be there. My kid has been not well."
Aw, we hope Hussein feels better!
And congrats again to Mo! He certainly has passed that winning personality on to his son!