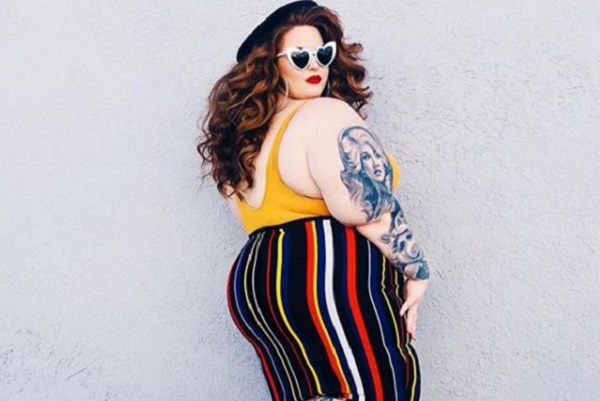 Plus-size model and body positivity activist, Tess Holliday, has a lot to say about fat shaming.
Known for promoting fashion and self love for all shapes and sizes the mum-of-two was shocked to discover that her photo was used in an advert for a photoshopping app.
The video, shared by Holliday herself, shows pictures or herself and tow other plus-size models being shrunk to conform to homogenized beauty standards.
Needless to say, Holliday was not pleased.
Firstly she confirms that the app in question stole her photos.
"An app that has nearly 50k downloads was dumb enough to steal photos of myself & two other plus size women & use them for this nonsense."
She then criticises the app itself, saying that it's "appalling," for anyone to market an app that drastically changes appearance. Instagram regulations, she continues to say, are at fault for this subliminal advertising.
"Secondly, why is Instagram not regulating the sponsored content like this? In a world of paid content, flat tummy teas, appetite suppressing lollipops (so many) its important for me to tell y'all that I have & will never partner with a brand or do paid content unless I genuinely use it or would recommend it to my best friend.
"I've been offered crazy amounts of money to sell y'all all kinds of things like teeth whitening (that doesn't work), weight loss products (that are dangerous), etc., but that's me- to each their own."
She then signs off off with a strong message of body positivity.
"Lastly never let anyone make you feel like you need to alter your appearance or who you are. You are enough. You are worthy of love in your current body, whatever that body looks like."
As for the app, she's not letting this slide; "my lawyers will be sliding in your DM's boo."
Other commenters are disgusted at the apps use of Holliday's photos, saying that plus-sized models shouldn't be vilified.
"Get em!! As a plus size woman, I'm genuinely horrified that they would use beautiful models and alter their appearance to fit their own agenda. WOMEN ARE BEAUTIFUL THE WAY THEY ARE."
"And people wonder why young people have no self esteem and body confidence eh? I mean, as I got older I learn to love my body but when I was young it was like it was wrong to be a bigger girl. I'm a size 20 with a fat ass I am proud of."
"So gross! Makes me so so cross! Especially using photos of women who are all about body positivity! Despicable!"
We think she's gorgeous- keep spreading that positivity!