Most mummies will know that once you have kids, gravity takes control over your boobs. What were once perky breasts are now starting look a little droopy. And it's not just from having kids – aging will have a huge effect on 'the girls'.
Boo Boo Bosom Buddy will help keep your breasts stay as firm as possible and can even help prevent stretch marks during pregnancy. It retails at €19.99 and is a lifting and firming bust treatment that tones and tightens your bust.
Natural ingredients such as centella and ginkgo biloba help to firm and improve elasticity. Argan oil, one of the rarest oils in the world softens, smoothes and tightens the chest area helping to reduce the appearance of stretch marks. Bosom Buddy's 100% natural scent of lemon, ginger, mandarin and peppermint acts as a natural pick me up and instant mood-lifter – as well as a boob lifter!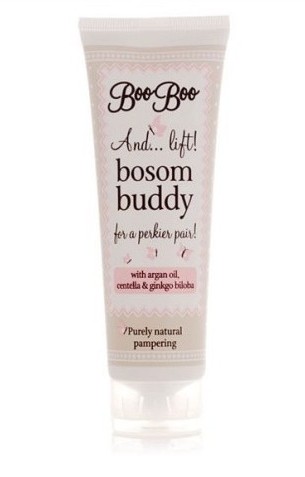 Here are our top tips to keep your boobs as firm as possible.
Never Sunbathe topless without an SPF 15 or above (not that many of us mummies get much time for topless sunbathing anymore!)
Cut out yo-yo dieting – gaining and losing weight puts strain on the skin of your bust causing it to lose elasticity.
Always wear an exercise bra when doing any high impact work outs
Target the area from your neck to your nipple during your usual face and body care regime. While the pectoral muscles lie beneath the chest breast are supported by the skin that stretches from neck to nipples so it makes sense to keep this area in tip top condition.
Don't neglect the neck. This is one dead give away of aging. So when applying Boo Boo Bosom Buddy make sure you include your neck as well as your boobs to keep everything looking young and firm.