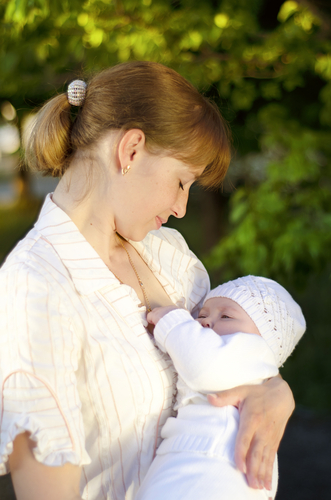 With the summer in full swing, you will be out and about a lot more with your little one. For mums who breastfeed they may find it a bit awkward to feed their baby while out of the house, so we have a few top tips from Medela's in house lactation expert Sioned Hilton who has been working with breastfeeding mothers for more than 20 years.
Be prepared! Bring a spare dark t-shirt with you as well as a spare set of clothes for your baby, in case of leakage or an accident. Use a scarf or muslin square to cover you and your baby up while feeding in the sun – this will give you a little more privacy and will protect your more delicate skin from the sun if you're out side.
Give yourself space. Some places will say you can use the loo, or baby changing area, but bear in mind these can often be small and smelly. Would you eat your dinner in the loo? No – so why should you're baby? If needs be you can head to a park. Sitting on a bench and feeding will give you plenty of space and you can place your buggy in front of you for a little privacy.
If you are on holidays and feeding in a sunny climate, make sure you protect your breasts and nipples from the sun. Sunscreen on your breasts is not advisable however, as it may give your baby an unpleasant taste when feeding. Instead just make sure to place a scarf or wrap of some kind over your breast when feeding.
In hot weather your baby may need to feed more often as he becomes thirstier. Ensure you keep your energy levels up and drink lots of water on these days.
Alcohol often accompanies summer activities like the neighbours BBQ or a lunch with your friends, but be careful while breastfeeding. A glass of wine (1-2 units) is ok, but any more will cross into your milk. You can express your milk beforehand and give this to your baby if you want to let your hair down.
If you have mastered feeding at home, don't let being out and about be a stumbling block. Keep at it and remember people won't be looking as much as you think.

For more information please visit
www.Medela.co.uk
and join Medela UK on Facebook