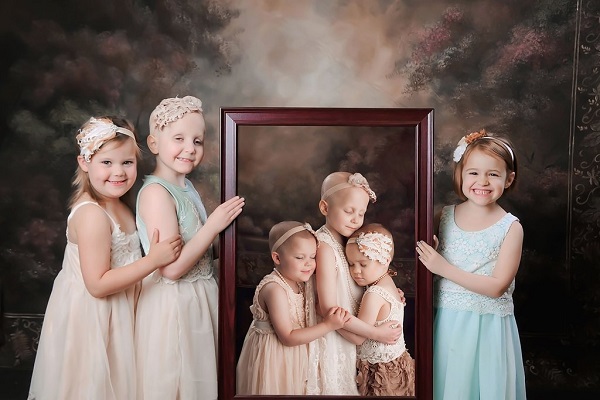 Cancer messed with the wrong girls.
In 2014, Rheann Franklin, now 9, Ainsley Peters, now 7, and Rylie Hughey, 6, met for the first time for a photo shoot. The brave young girls, from Oklahoma, were each fighting a different kind of cancer.
The gorgeous picture of all three girls hugging touched hearts around the world. So they decided to make it an annual tradition.
"We try to do something a little bit different each year," said photographer Lora Scantling.
This year they posed with a gold coloured ribbon to signify their triumph over cancer. All three girls have returned to school and a living their young lives to the fullest.
Ainsley "is very energetic and always singing," Rylie is a "a little goofball who is always smiling," Scantling says. Rheann has been left with the most obvious remains of her illness. Due to intensive radiation, her hair will never grow back and she has a permeatly drooping eye. "Despite everything she is an amazingly happy and sassy little girl," Scantling said.
"The girls absolutely have a blast getting together!" she continued, speaking to TODAY Parents. "They have a very special and amazing bond that is just incredible to watch!"
"Cancer is a dragon in your body," Rheann said at this year's photo shoot.
"And chemo is the prince," added Ainsley.
"Cancer messed with the wrong princesses." Rylie finishes triumphantly.
This year they were also joined by Connor, another child battling cancer. The girls warmly welcomed the nervous Connor, singing "You Are My Sunshine" to help him to relax.
"Watching the girls interact with him was amazing — they took turns showing off their scars to make him feel more comfortable," said Rylie's mum, Bridget Hughey.
"The odds were definitely against her, but she won the battle," Bridget told PEOPLE. "Now that our girls are better, it's our turn to take care of those who are beginning their battles. Adding Connor to the photo helps tell viewers that we have yet to win the war against childhood cancer."
"The picture this year means a lot to us," Valerie, Rheann's mum revealed, "because it helps highlight that yes, the girls are doing great, but childhood cancer is still out there. Rheann loves her friends and wants to help anyone in need."
"She is a warrior and will continue to work to spread awareness about cancer in children," adds Andrea, Rylie's mother. "She loves to show compassion to those around her. We're both honoured to be part of the bigger picture."
This year, the girls are wore purple lace dresses and headbands, with Connor looking dapper in a blue shirt.
"Connor is responding well to treatment and is doing much better than anyone expected," says photographer Lora, "and we're hoping that will continue. Seeing him laughing and smiling with the girls melted my heart. I'll keep taking this photo every year for as long as they want me to. They're inspiring to all of us."
What little heroes!