Every mum knows that teething can be tough for both baby and mummy. Baby is up all night crying and mum is tired and stressed out trying to make things better.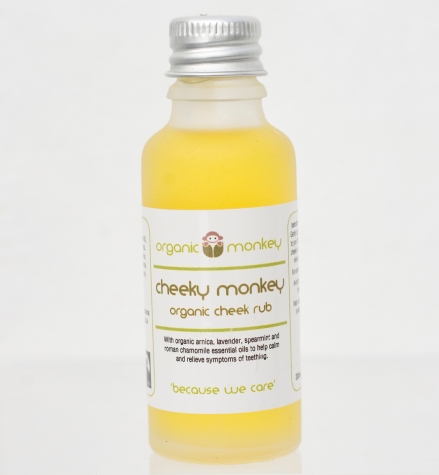 MummyPages have discovered a wonderful product that really soothes baby's teething pains, allowing them and you to get some rest. Cheeky Monkey Cheek Rub Oil from Organic Monkey uses food-grade oils to safely calm and soothe for quick, effective and long-lasting teething relief.
This mummy must-have product is made up of a soothing blend of 100% organic ingredients combing Arnica, Sweet Almond, Olive and Sunflower oils with organic Roman Chamomile, Lavender and Spearmint essential oils to help relieve the symptoms of teething.
What we love about this product is that, unlike traditional teething gels, this teething remedy is applied to the outside of the cheeks. So for any mum who is concerned about what goes into their baby's mouth, they can feel safe knowing this product won't be ingested. It's also 100% organic and offer high efficacy without the need for synthetics.
If you are unsure as to whether your baby has started teething, check out these common first sign:
chewing on their or your finger, toys or any other objects they get hold of
red cheeks, swollen gums and excessive dribbling
loss of appetite - refusing to eat or drink due to the pain
restless sleep, mood changes and feelings of irritability
pulling on their ears - the pain in the mouth throbs throughout baby's head so they pull their ears believing that it will provide relief
Cheeky Monkey Cheek Rub Oil costs £7.30 for 30ml bottle.