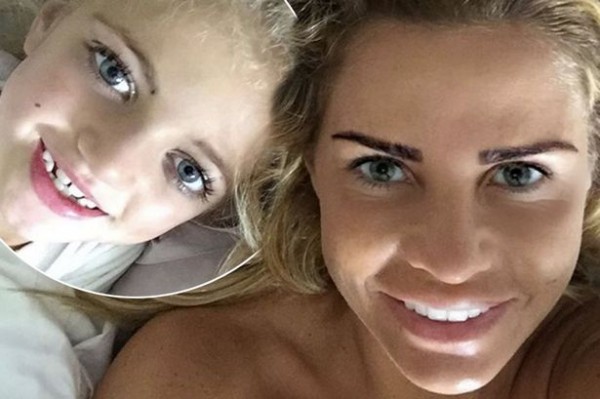 No stranger to online backlash, Katie Price is again facing criticism for one of her most recent posts.
The mum-of-five has yet again caused controversy after sharing a picture of her nine-year-old daughter, Princess.
The family are currently in the Maldives and Katie has been busy sharing pictures from the sun soaked holiday on her social media profiles.
The Loose Women panellist organised the trip to celebrate husband Kieran's 30th birthday and the whole family looks to be having an incredible time.
However, one post in particular has started a conversation online.
Despite sharing stunning images of the white sand beaches, and glamorous boat trips, and image of nine-year-old Princess has drawn the attention of many.
"Princess loving her holiday," read the caption on Katie's picture of her daughter posing in a bikini.
The post immediately drew negative comments from many who felt Princess was posing inappropriately and has now sparked a debate among Katie's followers.
"She's too young to be posing like that," read one comment.
While another person added: "No one wants to see a little girl trying to be a grown woman in a bikini."
However, it wasn't long until fans came to Katie's defence, with many mums saying their daughters are exactly the same.
"Little diva, my daughter is the same," said one fan.
"My daughter is exactly the same, nothing wrong with it. Mindless people with too much time of their hands," another fan commented.
The post has garnered over 150 comments, and has shown the strong divide in opinion on the issue.
This isn't the first time Katie has faced controversy over her social media antics, and we're sure it won't be the last.
Many questioned the 38-year-old's decision to allow 11-year-old Junior and nine-year-old Princess to join Instagram, with the outspoken mum taking to the Loose Women stage to hit back at haters.
Katie also shared a video of Princess talking about her love of makeup on Instagram after she was attacked for posting a picture the then eight-year-old with a full face of makeup on.
And most recently, the former glamour model split opinion when she shared another image of Princess which many speculated was edited.
Yes, Katie's social media is commonly a place filled with criticism, however, she is also quick to receive a lot of support from fans who are always there to defend her.
But we want to know what you think, do you think Katie's latest picture of Princess is inappropriate?