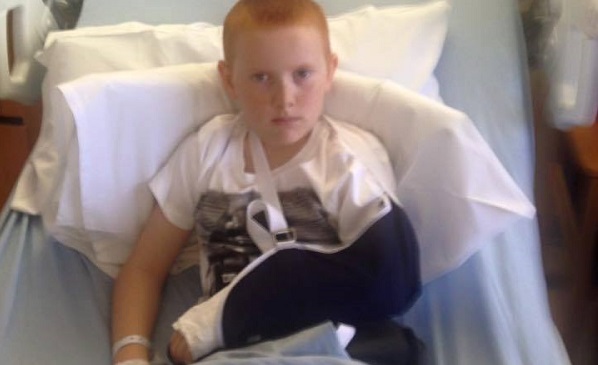 Any parent who has witnessed their child's utter heartbreak and fear from bullying will know just how disillusioned it can make you feel, which is why there has been an outpouring of sympathy for British dad Christopher Cooper this week.
The devastated father took to Facebook to share his frustration, revealing that after 12 months of unrelenting and violent bullying of his two children, he is now being investigated by the police for attempting to step in and put an end to it.
In the post, which has now gone viral, Christopher recounted how, after moving to a new school, his youngest kids Millie (11) and Braiden (9) have had their 'lives turned upside-down' by almost daily verbal and physical bullying at the hands of the school bully and his gang.
It all started when Millie was thrown to the ground and kicked in the ribs, and Braiden went on to undergo surgery for a major arm injury from another incident.
Naturally, Christopher stepped in and complained to school management, but his appeals for help fell on deaf ears.
"Once again, as on previous occasions, I approached the school to be told it was nothing to do with them as it was outside the school (despite their own bullying policy saying otherwise), and the answer was to stop my child from going to the local shop. I found out where the bully lived and approached the parents to ask them to ask their child to leave mine alone – instead I was met with a torrent of abuse. PC Greg told me he wasn't interested in investigating the assault – instead he wanted to investigate me for wanting to challenge the parents," he wrote.
The shocking abuse continued, with matters coming to a head when the school got in touch to say that Millie had been assaulted again.
"As a father I've been left devastated by all of this: watching their personalities change, their love for school diminish; watching the fear as my son was put to sleep, to undergo surgery, the lack of support from both Cumbria police and North Walney Primary school to effectively deal with this bully, who not only bullies my children but also others within the school," explained Christopher.
He decided to take matters into his own hands and end the bullying for once and for all. However, after approaching the bully and 'telling him straight to leave his kids alone or there would be consequences', he found himself on the wrong side of the law.
"I didn't touch him, I certainly didn't threaten him - although, trust me; how I didn't do either, I don't know. The result – I am now under investigation by the police, and at risk of losing my career. What an absolute joke. What options was I left with? As a father, I have always taught my kids right from wrong, and yet no one in authority - both the school and the police - have shown any desire to protect them!" he added.
Christopher has now removed his children from the school 'for their own protection' and resorted to sharing his story on Facebook to lament the fact that, clearly, 'bullies have more rights than their victims'.
As you can imagine, Christopher's story has really struck a chord online, with the post garnering almost 150,000 shares in two days. The support in the comment section, meanwhile, has been overwhelming.
What are your thoughts? Has your family been through a similar ordeal?
SHARE to spread Christopher's story, and get the conversation rolling.