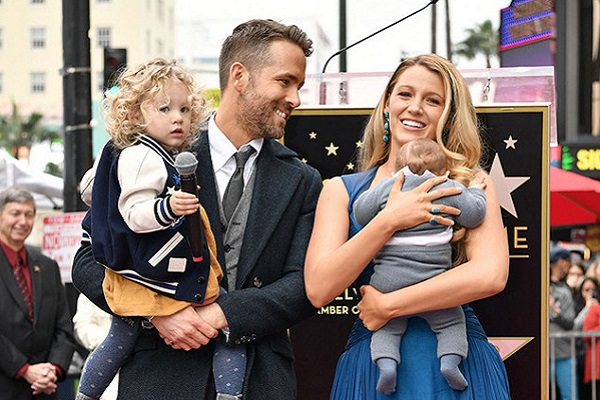 They are one of the most glamorous and beautiful couples in Hollywood, so it's not hard to see why all eyes were on Blake Lively and Ryan Reynolds as they stepped out for a very special date night, last night.
The loved-up couple stepped out for the TIME 100 Gala, in New York, to celebrate Ryan being honoured in the publication's latest list of 100 Most Influential People.
Ryan looked dashing in a navy-blue suit, and he was complemented oh-so perfectly by his 29-year-old wife. Blake looked stunning in a floral and sheer Marchesa dress, with multi-coloured fringing on the hems.
Also on hand to celebrate was Ryan's mother, Tammy, who will look familiar from her role as 'best supporting mum' during Ryan's Hollywood Walk of Fame Ceremony, last December!
While the couple's children – two-year-old James and six-month-old Ines – joined their mum and dad for the glam affair last Christmas, they were likely tucked up in bed during last night's event.
Commenting on the honour over on his social media channels, an overwhelmed Ryan paid tribute to his Woman In Gold co-star Helen Mirren, who heaped praise on him in her TIME dedication.
"Thank you, Time 100, for including me in this ridiculous list of brilliant and sometimes terrifying people. And the gorgeous Helen Mirren…I thank you from the heart of my bottom [his words, not ours!] for the kindest words ever. They will be sung by a children's choir at my extravagant funeral," he joked.
While Blake and Ryan appear to have had a ball at the star-studded party, no doubt they were keen to get home to their adorable young daughters – whom they frequently gush over.
Indeed, it's worth taking a trip back to Ryan's heart-meltingly beautiful Hollywood Walk of Fame speech, when he paid tribute to his family.
"I want to thank my wife, Blake – who is sitting right there – who is everything to me. You make absolutely everything in my life better," he gushed.
"You've given me two of the most incredible children that I could ever have hoped to have. You've made me the father of my dreams when I thought I only had 'fun uncle' potential.
"You are the best thing – the best thing – that has ever happened to me, second only to this star. It's the Hollywood Walk of Fame, cut me some slack here!"
What can we say? Another gorgeous turn on the red carpet, another iconic appearance. We kind of love them!