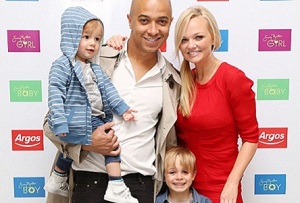 We can't imagine anyone being embarrassed to be seen with the beautiful and talented Emma Bunton, but it seems her sons are the exception.
The former Spice Girl, who is mum to seven-year-old Beau and four-year-old Tate, has opened up on motherhood in the new issue of Essentials, admitting that she loves mortifying her little ones by being affectionate in public.
"I'm lucky that I work in the mornings, so generally I'm home in time to pick up Tate from nursery, then go to get Beau from school. As soon as they appear, I literally grab them and squeeze them and kiss them. Beau's only seven and he's already like, 'Eurgh Mum, get off!'" said the doting mum.
The 39-year-old, who is engaged to Damage singer Jade Jones, said that she 'can't help herself' when it comes to her little boys, adding: "I know it's probably going to have to stop soon, so I'm making the most of it while I can."
Emma - who recently joined her former band mates for David Beckham's 40th birthday party - is looking as stunning as ever in photos from the interview, in which she also revealed that she still hasn't gotten around to organising her wedding.
The star, who got engaged in 2010, told the publication: "We're always like, 'Oh, we should do that one day, shouldn't we?' And then we're like, 'Yeah, when?'…'I dunno'. And then we forget about it."
"We're both Aquarians and terrible at organising things, so I was gobsmacked he'd even managed to organise [the engagement], never mind either of us planning an actual wedding," Emma added.
Wow, Emma is looking absolutely fabulous, and we're sure many mums can identify with what she's saying here.