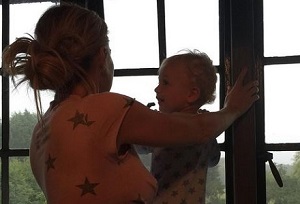 She caused concern among her fans this week when she posted a photo of herself looking very thin while promoting a weight-loss product, but this famous mum has hit back at her critics and body-shamers.
Mum-of-five Katie Price took to her social media channels today address negative comments about her apparent weight loss.
Deeming herself 'lucky' that she has been able to maintain her figure after carrying five children, the 37-year-old had some stern words for those saying she looked too thin, and others who told her to 'stop breathing in' for photos.
"If my body was Photoshopped the lines would be bent around the cabinets! I don't work out as too busy running around after my children but use Bootea!" she wrote, referring to the product she had promoted in the earlier pictures.
She added: "I'm not perfect and not trying to be, just seems WHATEVER I do people will always pick holes in me but I'm used to it now."
Katie, who welcomed youngest child Bunny last year with husband Keiran Hayler, also went on to thank her parents for their 'good genes'.
"Pick holes in my body all you like but I know I'm very lucky to have a body like this after five children," she finished.
What do you think of the criticism against Katie?