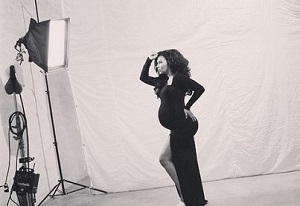 We are still waiting on the first photo of her newborn tot, but while it may be a few days coming, this famous new mum has shared another very sweet update with us.
It was revealed this week that actress Naya Rivera welcomed her first child last month, and this evening she took to social media to share a sneak peek of a gift her husband Ryan Dorsey gave her to mark the milestone.
Confirming that, indeed, her newborn son's name is Josey Hollis, the former Glee star shared an Instagram shot of a beautiful double necklace bearing the name 'Josey' and the initial 'J'.
"Gifts from my guys," wrote the 28-year-old in the sweet photo's caption.
A source told Us Weekly that Naya and Ryan became parents last month, but the couple chose to bond with their little one away from the media spotlight.
"They are so excited to be first-time parents. It was a very easy pregnancy and birth. Naya was born to be a mother and is doing really great so far. And Ryan has amazing paternal instincts and has been waiting on them both hand and foot," the source said.
We can't wait to get our first glimpse of little Josey Hollis.