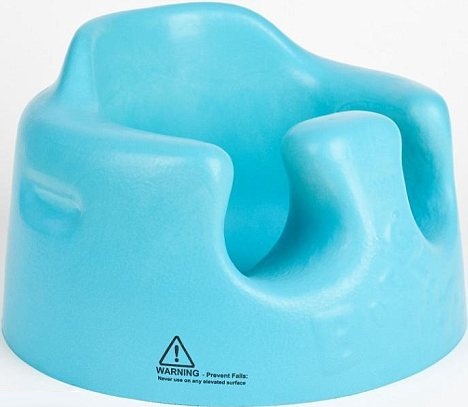 Four million Bumbo baby seats have been recalled after reports of skull fractures in infants. The South African company (Bumbo International) along with the Consumer Product Safety Commission (CPSC) announced a voluntary recall that affects 4 million seats which were sold in the US and Canada since 2003.
It was found that babies can too easily get out of Bumbo floor seats. This follows a previous recall in 2007 when seats were found to be dangerous if placed on a raised surface and as a result, warning stickers were placed on the front of Bumbo seats instructing parents to only use Bumbo seats on the floor.
The CPSC report says:
CPSC and Bumbo International know of at least 50 incidents after the October 2007 voluntary recall in which babies fell from a Bumbo seat while it was being used on a raised surface. Nineteen of those incidents included reports of skull fractures. CPSC and Bumbo International are aware of an additional 34 post-recall reports of infants who fell out or maneuvered out of a Bumbo seat used on the floor or at an unknown elevation, resulting in injury. Two of these incidents involved reports of skull fractures, while others reported bumps, bruises and other minor injuries.
Bumbo International is issuing new warming labels along with a repair kit to consumers. This includes a harness to secure babies into the seat.
If you own a Bumbo seat, the CPSC advise the following:
"Consumers should immediately stop using the product until they order and install a free repair kit, which includes: a restraint belt with a warning label, installation instructions, safe use instructions and a new warning sticker. The belt should always be used when a child is placed in the seat. Even with the belt, the seat should never be used on any raised surface. Consumers should also immediately stop using Bumbo seat covers that interfere with the installation and use of the belt. A video demonstrating proper installation of the restraint belt and proper use of the Bumbo seat are available at www.BumboUSA.com"
MummyPages has contacted Bumbo International for an update on this recall and to ask how our mums can sign up to receive their repair kit. We have yet to receive an answer.