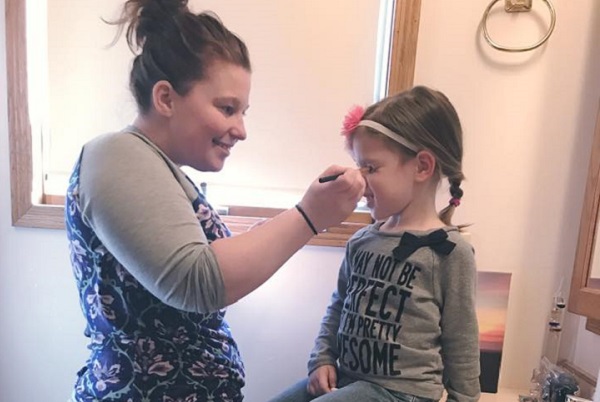 Jessie Hoag is a writer and busy mum of three. As most mums, she other puts her own children's needs before her own and this picture was captured on one of those occasions.
While getting ready to bring her girls to the cinema for a special outing, Hoag's middle child snapped this picture of her. The first thing she did was focus on everything about the picture she didn't like.
For Hoag, the picture captures everything she's self-conscious of:
"I see a huge pooch that carried three babies and lingers still, four years after it has been retired.
"I see nasty hair that hasn't been washed in a week, surviving on dry shampoo and bobby pins.
"I see a double chin and a grin I forced when I realised she was taking a picture.
"I see a pointy nose I've always hated, amplified in a profile view.
"I see my favourite jeans, still way too tight even after losing over 20 pounds in the last couple of months.
"I see a cluttered counter and gold fixtures I still haven't found the time to update."
But her middle child sees something else completely different, she sees Hoag being a good mother.
"Someday I'm gonna be pretty as you!" she says. "You're a good mummy!"
"She just sees a good mommy, pretending to put on makeup, because the littlest little begged.
"She sees mommy in a new shirt and her favourite jeans, 'dressing up' to take her girls to a movie. Dressing up means pants with buttons, even if you have to lay flat on the bed to button them."
Even the messy countertops don't faze the daughter, she just sees them as "a counter full of things that make mommy happy" in "mummy's special spot."
She sees the sacrifices her mother has made, even down to throwing her own "her dirty hair up in a hurry" in order to bath and dress her daughters "making sure they felt special for their fun day out."
For Hoag, seeing herself through her child's eyes, might just be the key to self-acceptance.
"I think the best thing I can do, in my quest for self-acceptance, is just to see myself through my child's eyes more often.
"As the littlest little's shirt reads, I may not be perfect, but I'm pretty awesome."
We completely agree. Every mum deserves to be told have amazing she is, even when not washing her hair for a week!