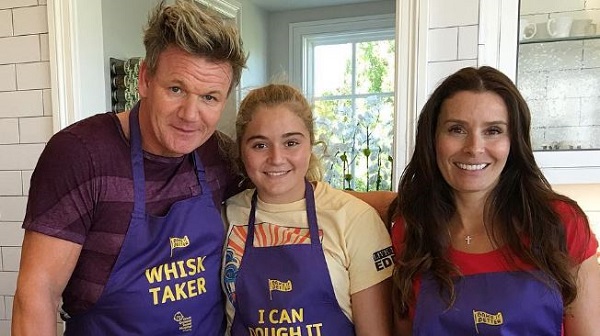 When we heard that Gordon Ramsay had been banned from his children's parent-teacher meetings, we presumed that it might have something to do with his notoriously fiery temper. As it turns out, we could not have been more wrong.
The celebrity chef has revealed that he is no longer welcome at parents' evening at his kids' school, because of a selfie!
In an interview with Vegas magazine, the 49-year-old explained: "I failed at turning up for parents' evening at my kids' school. And then when I went to the next one with my youngest, Tilly, I asked the headmaster for a selfie, after which I got kicked out."
He added: "I really f***ed that one up! I received an email saying, 'Can you please refrain from the next parents' evening – we do not need the presence of Mr Ramsay.'"
We don't know what that principal's problem is – we would be only too delighted to get a selfie with The F Word star!
Gordon and wife Tana are parents to four children: 18-year-old Megan, 16-year-old twins Holly and Jack, and 14-year-old Matilda.
Do you think the school was a little harsh on Gordon?
SHARE and let us know.