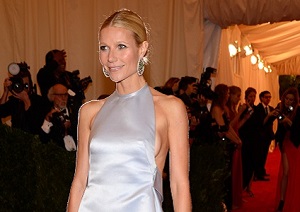 She has in the past been notoriously private when it comes to her children, but it seems that Gwyneth Paltrow is getting snap-happy as her children grow up.
The Iron Man star took to her social media channels today to share a never-before-seen photo of her daughter Apple, to mark her 11th birthday.
Posting the beautiful photo of an adorable, blue-eyed Apple to Instagram, the 42-year-old wrote: "11 years ago this brilliant, kind, hilarious beauty graced our lives. Happy birthday, Apple Martin. I love you with all my heart."
It could be argued that Gwyneth and ex-husband Chris launched a new crop of unusual celebrity names with daughter Apple's moniker.
Explaining why she and the Coldplay frontman chose the name, Gwyneth once told chat show host Oprah Winfrey: "It sounded so sweet and it conjured such a lovely picture for me – you know, apples are so sweet and they're wholesome and it's biblical – and I just thought it sounded so lovely and…clean. And I just thought, 'Perfect!'"
Gwyneth's latest dedication to Apple comes just over a week after she revealed that she was snubbing the Met Gala to stay in and hang out with her eldest child.
What a gorgeous tribute. We hope Apple has a lovely birthday.