Wren Kitchens had a stroke of genius when they decided to create their Festive Food Tube map to show the latest seasonal food crazes at each Underground stop in the gorgeous city of London.
Those Instagram-worthy treats can now be tracked down, each meal at a time. If you're seeking the perfect mince pie, Christmas-themed pizza or pudding brownie balls, this map is your new best friend.
London's food scene during the festive season is renowned worldwide, and now it's taken Christmas to the next level. Food and drink outlets across the city are competing to be the biggest craze of 2018.
Burgducken Burgers, mince pie donuts and Christmas pizza are only a few examples of the London eateries' creations, you can enjoy a fizz in Verve Cliqout's Gondola or dinner at Jimmy's Lodge Aprés Ski bar in a glass igloo.
Whether you're a tourist or native Londoner, it's so handy to know where the newest restaurants are and where to find the next big thing in your city.
Follow the fun and festive map to find out where the tastiest and most niche treats in London can be discovered: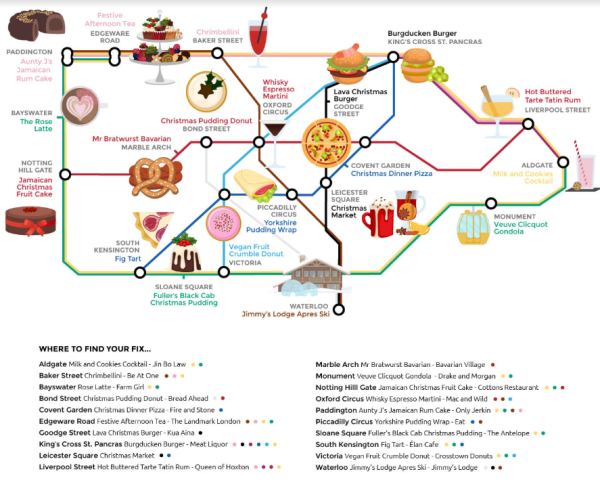 From Chrimbellini at Be At One, rose gold lattes at Farm Girl to Black Cab Christmas pudding at Antelope Eaton Terrace, London has so much incredible food to offer.
We want to try every single thing on the map, how could we resist?
We owe Wren Kitchens big time for this pre-Christmas treat. They'll be rolling us out of each and every restaurant.