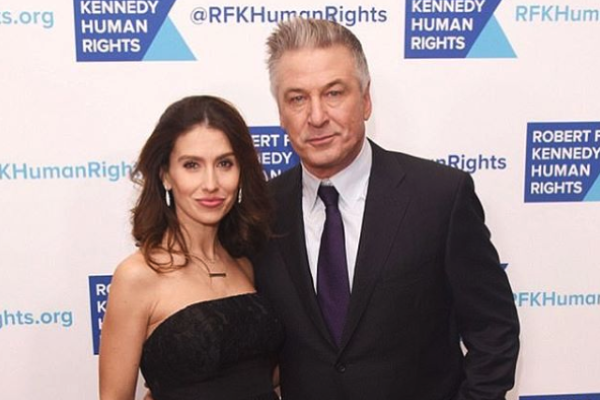 Picture via Instagram
Alec and Hilaria Baldwin recently welcomed their fourth child together, a baby boy named Romeo Alejandro David Baldwin.
Shortly after their little one's arrival, the 34-year-old mum decided to post a photo of herself from 24 hours after giving birth to her youngest child.
The yoga instructor also shared pics from the day after her two-year-old son Rafael and one-year-old son Leonardo were born.
"My purpose here is to normalise the postpartum figure and over the next days, weeks, and months, show you how I strengthen my body and return to my non-pregnant self," the mum explained.
"You all came with me through my pregnancy...now it's time to turn back into me.
"We all come in different shapes, sizes, and health experiences...but given the right love and care, we can feel really good within our skin. We just have to be patient and kind with our bodies."
She added, "I have so much respect and admiration for the human body...I hope that intention shines through and we can inspire each other to be healthier and happier."
Some commenters were not impressed with the post, saying that her body set unrealistic expectations for other postpartum mums.
"I feel these pics are harmful," one person wrote, "You have the money to be perfect. Others don't. You can hire anyone and everyone to make your food. The rest of us aren't so lucky. If you actually care about women, you'll stop flaunting."
"I had my son two weeks ago and my stomach is about that size now," a mum shared, "I don't understand how this is supposed to help normalise postpartum bodies. To all first time moms: don't be disappointed/don't expect to look like this the day after you have a baby!"
Another Instagram user accused Hilaria of vanity: "She just wants to show off her perfect post-baby body. All she cares about is her body."
However, there were plenty of people who felt the mum-of-four's photo contributes positively to the conversation around childbirth recovery.
One mother commented, "I love this post. My last son is seven, and I am still working on [my post-partum body]! Having a baby at 40 was hard. Trying to eat right and exercise to get everything on target."
"My youngest is five-years-old, and my belly still sticks out from an umbilical hernia and diastasis recti (and two c-sections). I wish there were more awareness of those conditions," a mum wrote.
"It takes a strong woman to appreciate every aspect of her body: good and bad, beautiful and ugly. But it takes a special woman to help build up other women! You, my dear, are an amazing source of strength and appreciation for many of us! So, thank you!" another said enthusiastically.
What's your opinion on Hilaria's postpartum photo?