When one mum posted her own parody version of a well-known children's book on her Facebook page, she never expected it would blow up the way it did.
Mum and comedian Kate Blandford shared a wry and hilarious version of Ten Little Monkeys, poking fun at the certain goings on in mom groups.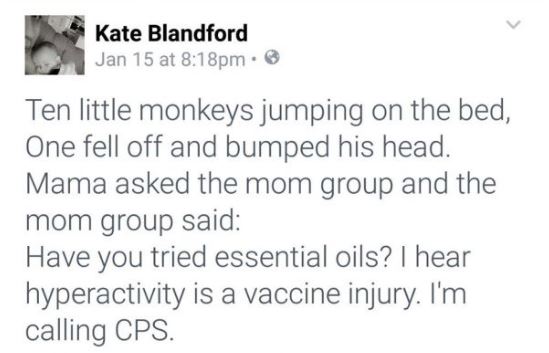 And it took, off circulating amongst mums everywhere who could relate, and eventually ending up as an amazing Reddit thread which counted down the rhyme to one little monkey.
The genius thread was a tongue-in-cheek look at the plain annoying / judgemental things some people in mum groups smugly tell us – the kind of things that have us pretending to smile but inwardly we're rolling our eyes and thinking, "Get a grip!" So of course we had to share...
Nine little monkeys...

Eight little monkeys...

Seven little monkeys...

Six little monkeys...

Five little monkeys...

Four little monkeys...

Three little monkeys...

Two little monkeys...

One little monkey...

Hilarious! And boy can we relate.
SHARE if you thought this was the best thing you've read all day!