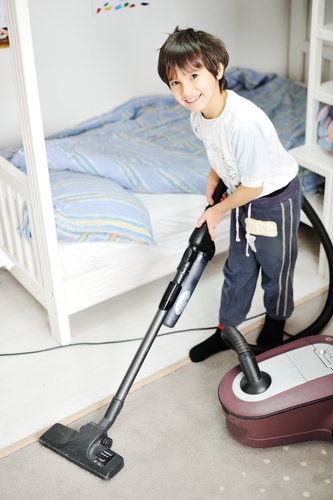 Cleaning your child's room often requires a whole day of your time and many mums find it easier if they just get stuck in on their own. However, it is important that you get your little one involved so they understand if they make a mess they need to clean it. Make sure they are aware that you are helping them and not doing the work for them though.
Unfortunately, they will need a little motivation and focus to help them stay focused on the job so here are five tips to make the process fun and quick.
Race against the clock
Allocate a space to both you and your child. Set a timer for say three minutes and see who can tidy up their area first. If their clothes are all over the place, give your child five minutes to put them all away. Kids love racing against the clock and it will help to keep them motivated and focused on the task at hand.
Make a list
Make a list of what needs to be done and let your child tick it off as they complete their job. For instance you could write tidy up clothes, put teddies away, put shoes in a neat line and put art stuff into art box. This will help your youngster understand what exactly needs to be done. Ticking items off will show them how much they have already done and how little they have left to do.
Play some music
Cleaning doesn't need to be boring or quiet, turn on the music and have some fun. Use upbeat songs that will help to motivate your child and make sure you stop every now and then to have a little dance together.
Keep it short
Don't expect your little one to spend hours in their room tidying, even if you are there. Allocate an hour or so and if it needs more tackle it the next day. Don't spend the whole day cleaning or you will both end up tired and frustrated.
Give them a reward
Make sure you give your kids a goal to work for. A trip to the park or sweets will help to make the job go quicker in your little one's haste to get the reward.