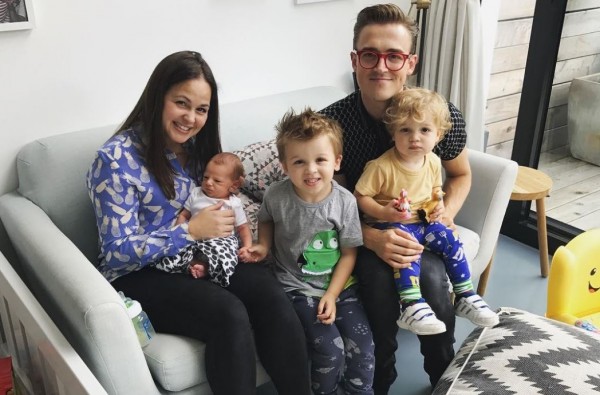 Author Giovanna Fletcher has spoken out about her past experiences with bullying. The mum-of-two is taking part in the #BackToSchool campaign, where she hopes to raise awareness by sharing her own story.
In an emotional video, Giovanna talks about her school days and speaks about how she was bullied when she was just seven years old. Giovanna speaks about how it started off with little comments, but then escalated to the point where she was physically hurt.
There were numerous events where she fell into rose bushes in the school grounds, and would then end up seeking help from the school nurse. She says, "I don't think there's anything quite as embarrassing as being with the nurse in school and having rose thorns pulled out of your bum."
In the heart-wrenching video, Giovanna shares her concern for her son Buzz, who will be starting school next year. Starting school can be a daunting time for children, but it can also be an overwhelming experience for the parents, too.
Giovanna hopes her eldest son is accepted for who he is when he starts primary school, "You want them to be happy being whoever they are."
She believes that everyone should be accepted, no matter who they are. Embracing our unique qualities is so important, and Giovanna believes that our differences are what make us wonderful.
There are many celebrities taking part in the campaign alongside Giovanna, including Tom Daley, Rio Ferdinand and Gemma Oaten. The Diana Award Anti-Bullying Campaign is the organisation behind this great campaign, and they are determined to put a stop to bullying in schools across the UK and in Ireland.
The Anti-Bullying Campaign was established in 2011, as part of the Diana Award, which honours the late Princess Diana's belief that children have the power to change the world for the better.
The Anti-Bullying Campaign work tirelessly to put a stop to bullying in schools and youth organisations. They hope to achieve this by educating youths, running anti-bullying campaigns like #BackToSchool, and showing people that there is nothing wrong with being different, it's something that should be celebrated.
You can get involved with the campaign by using the #BackToSchool hashtag on social media sites, like Twitter and Instagram. The Anti-Bullying Campaign also invite people to share their words of wisdom with the youth of today to make their school days that little bit easier.