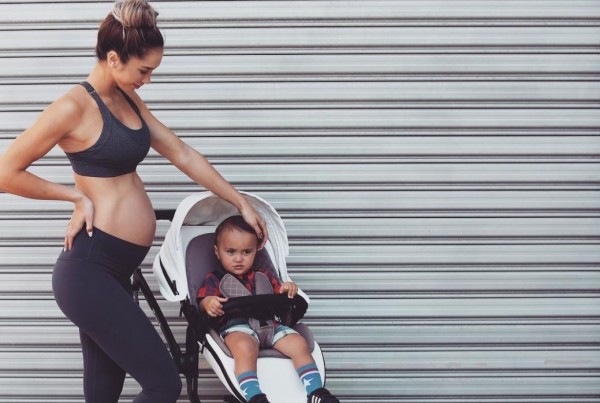 She has come under intense scrutiny during both of her pregnancies, but that has not prevented Chontel Duncan baring all from her journey.
The blogger, who split opinion by kick-boxing and lifting weights while heavily pregnant with her first child, has bared 'the raw truth' of her pregnancy experience.
Chontel took to Instagram to share a powerful photo illustrating not only how pregnancy affects different women, but how different pregnancies affect the same woman.
She posted a split-photo of one foot from her first pregnancy, swollen with fluid; and the same foot from her second pregnancy, looking perfectly normal.
"Creating foot phobias all around the word with this post," joked Chontel, the owner of HIIT Australia.
"This is the raw truth on how bad my fluid got towards the end of my first pregnancy.
"Second time around, I have done nothing different but have absolutely no fluid retention."
Needless to say, the comment section was full of replies from mums who experienced similar symptoms.
"Similar with my first baby – so much retained fluid. I went up two shoe sizes because my feet were so swollen. I gained five stone and lost four of it within 10 days of my daughter's birth!" wrote one follower.
"I was exactly the same. First, boy – so much fluid. Second, girl – and no fluid," added another.
There's a lovely happy ending to the story – Chontel welcomed a baby boy, Swayde Noel, just a day later!
"Sam and I are incredibly excited to introduce our beautiful baby boy," Chontel wrote, sharing a sweet Instagram post.
"Weighing 8lbs 7.5oz, born Wednesday, at 8:19am. Baby is very healthy, and I am recovering from my Caesarean really well."
Referring to her eldest child, she added: "Jeremiah loves his baby brother Swayde, meeting him yesterday for the very first time before we shared his arrival to our friends and family."
Congratulations to Chontel on her lovely news. Can you relate to her pregnancy symptoms?