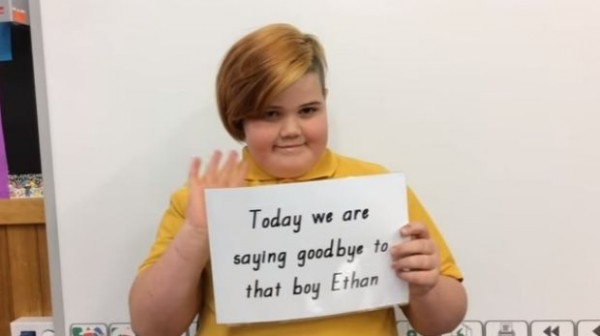 Telling your friends that you're transgender is never an easy thing to do, especially when you're just a child at school.
But that's what this brave youngster did earlier this week.
Abbey Boon, formerly Ethan, came out to her classmates at Mowbray Heights Primary School in Tasmania via a Youtube video revealing her real self.
The video features laminated signs in which Abbey explains how she has felt her entire life – the struggle she faced fitting in, the fears that there was something wrong with her, and the courage she finally found to accept herself as she is.
The clip begins somewhat heartbreakingly, with a sign that reads "I decided that it was time to be ME."
The next sign she presents explains the purpose of her video: "Today I am telling you that I am transgender," it reads.
For anyone who might not understand the term, she goes on to clarify: "This means that I am a girl that was born in a boy's body."
Her final sign is simple but truly inspiring.
"Today we are saying goodbye to that boy Ethan," it reads.
So far, the wonderful video has been viewed over 5,000 times, and her mum Melinda Miles said that "many happy tears" were shed once Abbey became her true self.
"She came up to me late last year and she goes 'I don't want to be a boy, I want to be a girl,'" Melinda told Ten Eyewitness News.
"So I said, 'Righto, I accept the way you are,' and I support her, I support everything she does."
Aww. Let's hope her classmates are as supportive as her dear mum. You can watch Abbey's silent but powerful vid below.
SHARE to help other transgender kids feel comfortable in their own skin.