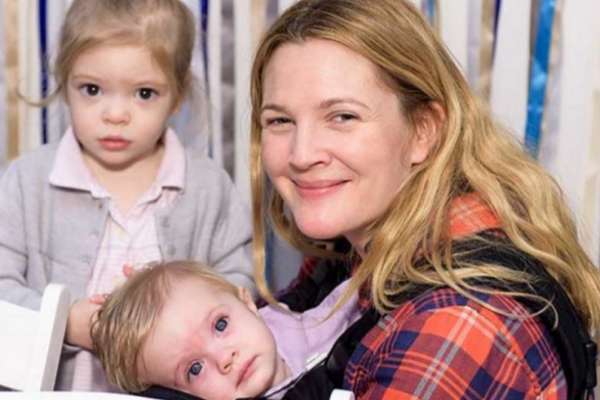 If you've ever taken a trip to the hairdressers with the kids in tow, you'll know it can be a precarious process.
While you attempt to relax and enjoy the pampering, there's always the fear that they will get up to something naughty, such as carrying out their own haircuts in the corner.
Actress Drew Barrymore came up with a rather novel solution to the hairdresser dilemma when daughter Olive attended an appointment with her.
While Drew was getting a full head of highlights necessary for reprising her role as working mum Sheila in Santa Clarita Diet, little Olive also got a set of foils.
But don't worry, Olive wasn't getting real highlights! Instead, Drew's stylist Tracey Cunningham treated the little girl to a conditioning treatment, and wrapped her hair in foil to help it sink in. Such a clever idea!
Former wild-child Drew has now embraced life as a proud mum to daughters Olive, four and Frankie, three.
She recently spoke out about her worries for the girls following her divorce from their dad Will Kopelman, her husband of four years.
Drew described her third divorce as her "worst nightmare", in a candid interview with Ellen DeGeneres.
The actress explained that she'd hoped to raise her two daughters in a traditional family, and that splitting from Will was a very difficult decision.
She said: "I so wanted to raise kids in this ultra-traditional way, and do everything so the polar opposite of my experience.
"And you know, it really is about the tone you set, and you can talk until you're blue in the face, but kids watch what you do every single day of your life, all day long; and that behaviour and that example and that love and community and honesty is just, I think, what's making everything feel safe for my kids".
The couple have remained amicable, and often spend time together as a family for the sake of their daughters, whom they say are their "first priority".
After their split, they released a joint statement saying: "Sadly our family is separating legally, although we do not feel this takes away from us being a family.
"Divorce might make one feel like a failure, but eventually, you start to find grace in the idea that life goes on."