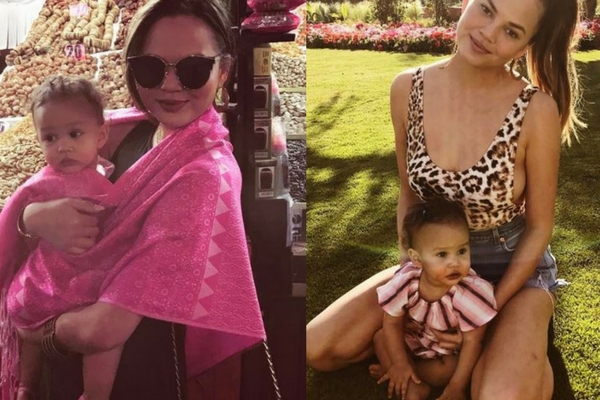 Chrissy Teigen recently revealed that she'd suffered from a condition which affects many new mums – post-natal depression.
Now that she's recovering, the model and mum-of-one has some timely advice for other mums who may find themselves struggling to deal with post-natal depression.
In a recent interview with Refinery29, Chrissy admitted that there were times when she thought she would never overcome her depression, yet she is now feeling much better and enjoying life and being a mother to Luna, again.
"When I was in the midst of everything, I could never imagine myself on the other side of it," Chrissy admitted.
"Now, I'm able to look at September, October, November, December, and shake my head at how dark and crazy of a period it was.
"Unfortunately, you can only really do that when you're out of it. There's no other way to explain it. And there's no better feeling than being out of it"
Chrissy said having bad days even during recovery is totally understandable, and she wants to let other mums know it is OK to feel this way.
"I just had a bad day a couple days ago. But the bad days do not outweigh the good days anymore."
She advises other mums that it will get better, no matter how dark things seem.
"Just when you think it's really, really bad, it's going to get better. So hopefully, if you're going through something tough, you can find some peace in knowing that."
Chrissy now has the energy to devote time to projects she had to put on hold while dealing with post-natal depression. She's currently in the middle of writing her second cookbook, Cravings Part 2. Now that she's feeling better, she's excited to start creating recipes for her cookbook.
"I'm really starting to feel like myself again", she said.
"I'm going to try to knock out a bunch of recipes, go on tour with John and Luna, live on this tour bus, and then come back, do a few more recipes, shoot the cookbook, and then have it out for everybody by the beginning of next year."
If you are struggling with post-natal depression, ask your GP for advice and seek support from friends and family where possible.