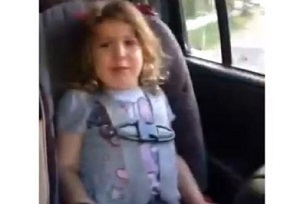 It's always an exciting time for the family when it's announced that there is going to be a new addition, but sometimes our little ones are none too thrilled!
This was the case for Instagram user Christina Grasso's family this week, when they informed their daughter that she was getting a brother – a third brother.
Christina, who is this emotional little girl's godmother, shared the little girl's reaction to finding out she's going to be an only girl – and it's not a happy one.
"And you thought your Tuesday was bad…my fairy goddaughter just found out she won't ever get that sister she wanted," wrote Christina, sharing the video on the micro-blogging site this week.
Just check out her reaction. How many other parents have been there with their little ones? We're sure that once her new brother comes along, this gorgeous little one will forget all about her woes!