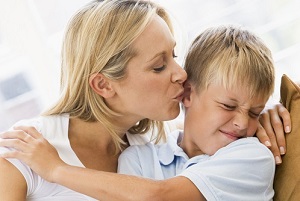 A mum has become a viral internet sensation after her son took to Facebook to share the hilarious notes she left him about house-sitting.
Martyn Hett, 27, took a photo of the incredibly detailed 13 notes his mum Figen wrote for him before she went away on holidays, and the internet is suitably entertained this weekend.
From giving instructions on how to care for the 'evil' family cat, to which toilets can be used for which, ahem, movements; Figen's hilarious approach to 'mummying' her son has proven a hit online.
Among the notes are one which reads: "Top floor toilet: Don't do a No. 2 as it doesn't flush well. Also, don't lock that door – YOU MAY NEVER ESCAPE!"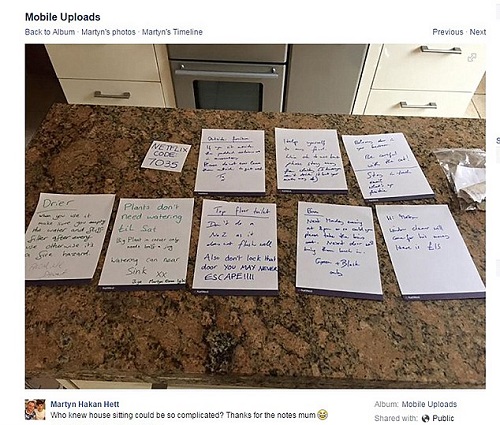 Figen also echoed the sentiments of mums everywhere as she urged him to "keep in touch", listing Facebook, email and 'What's Up?' (Whatsapp) in case he couldn't figure out how to!
The 27-year-old, who was moving into his parent's house while they holidayed in Turkey, captioned the photo with: "Who knew house-sitting could be so complicated? Thanks for the notes mum!"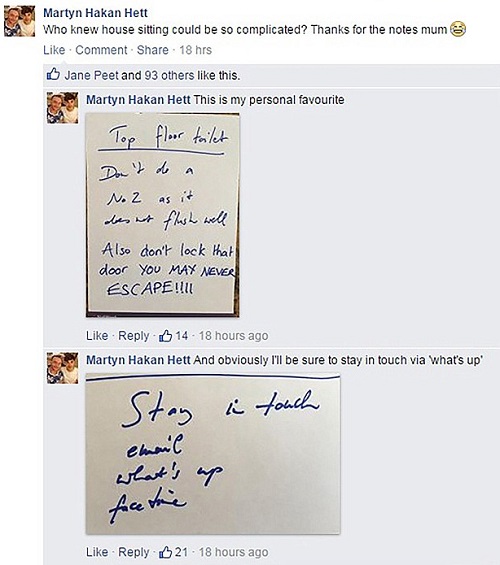 Speaking to MailOnline.com, the 27-year-old PR executive said: "She does it every time she goes away. I have absolutely no idea why she leaves so many [notes], but I find them quite endearing. She was raised in Germany so she's got that militant efficiency about her."
We like Figen's style!