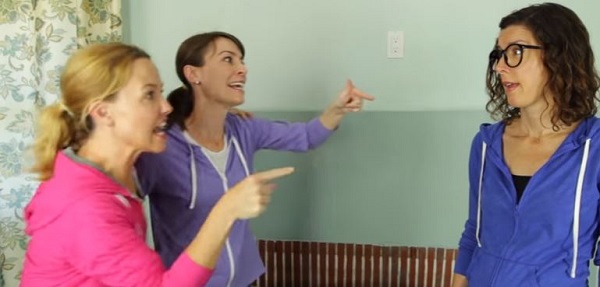 Whether we are parents or not, we all have our own troubles and tribulations, but none of us are strangers to a bit of 'momsplaining'.
As the mums at The BreakWomb explain in their latest sketch, 'momsplaining' is 'when a mum explains something to someone – generally a non-parent – about parenthood that seems super-obvious but must be stated'.
They go on to share some pretty hilarious examples – the major one being when a 'non-parent' complains about being tired having been up all night binging on boxsets!
"You think you're tired? My baby's teething! There's no sleep happening at our houses – WE ARE TIRED!" exclaims Laurel, while Megan reveals that she hasn't slept through the night in four years, since the birth of her little one.
Before you 'whine' about not being able to pick a restaurant, you might want to consider those parents around you who haven't been out of the house in six months; and don't even think of mentioning missing a 'spa day' around a mum who hasn't had a haircut in three years!
"I WISH I had your problems…The only massage I get is rolling around on Legos!" shouts Molly.
Well, consider all 'non-parents' told!
SHARE to give a fellow mum a good giggle today.