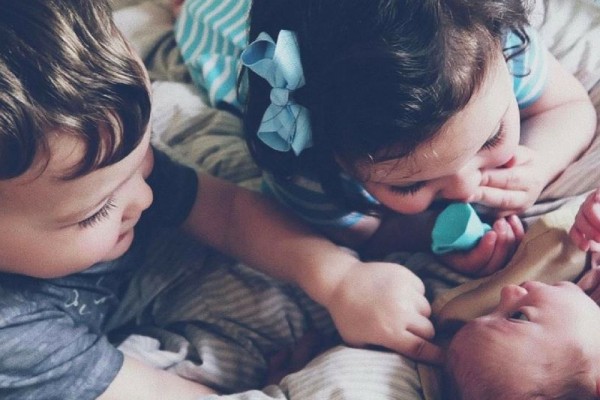 We were thrilled to hear YouTube couple Anna Saccone and Jonathan Joly's exciting baby news last week. Anna gave birth to a beautiful little girl, after enduring a miscarriage last April.
The couple were devastated after the miscarriage but decided to try for a baby again shortly afterwards. They kept the news of Anna's pregnancy quiet for some time until making the big announcement last September.
The little girl is in perfect health and weighed a healthy seven pounds and three ounces at birth.
Jonathan had initially shared a snap of him holding the new baby's hand but since then he's posted quite a few pictures of the new baby.
The proud dad shared a lovely photo of all of the kids together yesterday. The little girl, who they've named Alessia, is looking up at her adoring big brother Eduardo, 2, and big sister Emilia, 4.5.
Doting dad Jonathan wrote "My greatest achievement" beside the photo of the kids. No doubt Anna will agree with that.
Anna is equally happy, saying recently 2017 has been "the best year of her life", and sharing several photos of herself cuddling her new arrival on Instagram.
The family announced the new baby's name in true vlogger style with a special YouTube video. After some gentle persuasion by Jonathan, little Emilia announced the tot's name, Alessia Francesca Saccone-Joly during the course of the video.
The power couple are even letting their older kids get involved in caring for the baby, with Emilia pitching in to help change a nappy. We're impressed!
The older kids are already besotted with little Alessia, judging by their reactions when they met her. Emilia gently stroked her little sister on the head while Eduardo was a bit shyer but soon warmed to her, giving her a teddy.
The Saccone-Joly's fans are also totally obsessed with the new arrival, with one even setting up an Instagram account for the new baby! We don't blame them really, she is totally adorable.
We're thrilled for our favourite YouTube family, we're glad they got through such a difficult year and are enjoying family life.