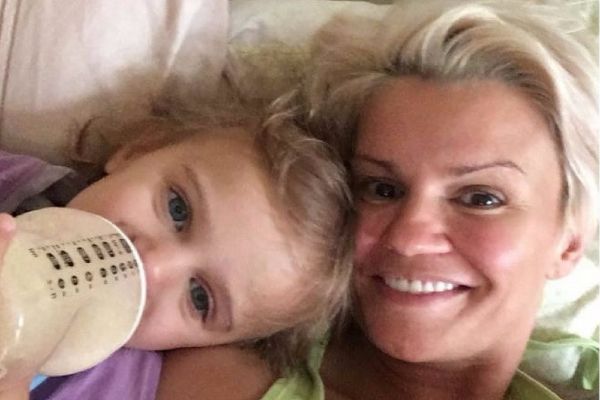 Like many other toddlers, Kerry Katona's little girl Dylan-Jorge recently decided to give herself a haircut.
And as any parent of a hairdressing toddler will tell you, these things usually don't turn out well.
Bubbly mum-of-five Kerry handled Dylan-Jorge's haircutting escapade with good humour but was shocked to receive criticism online for the tot's new look.
An amused Kerry uploaded snaps of the tot's new hairstyle online, writing: "My DJ who thought it would be a good idea to cut her own hair! But she still looks beautiful!"
However, she was horrified to receive some rather cutting and judgmental comments for leaving the scissors where the little girl could access it.
"Always keep scissors away from kids," one parent cautioned Kerry. "Could have been a lot worse."
While another wrote: "Just as well she didn't cut her skin otherwise it could've been a hospital trip."
Feeling hurt by the suggestions that she was a bad parent, Kerry hit back saying: "Nobody was hurt during DJ hairdressing disaster!!! So slagging me off by saying 'what if' don't you all think I know this!!
"But rather think about what could have happened which nothing harmful did happen apart from a typical toddler playing hairdresser gone wrong!!"
She continued: "DJ isn't the first toddler in the world to have done this and nor will be the last!"
Kerry attempted to tidy up the toddler's hairdo but ended up having to take more hair off- we've all been there!
She then uploaded a photo of herself and a rather grumpy-looking Dylan-Jorge both sporting shorter hair, alongside older daughter Lilly-Sue, explaining she'd cut her hair slightly shorter to match the tot's short do.
Unfortunately for Kerry, Dylan-Jorge's scissor spree didn't stop with her hair, she also attacked the star's brand-new bedding...oops!
We think Kerry looks great with her new crop and after all who hasn't had a toddler get up to this kind of mischief?
It's been a tough time for Kerry recently as she revealed her heartache at her oldest daughter Molly's decision to move to Ireland to attend school there.
The teenager will be moving to Ireland to attend transition year and hopes the extra year of school will improve her grades. Molly is hoping to pursue a career as a surgeon.
Molly will be living here with her grandparents for the school term. Kerry previously told OK! how much she supported her daughter's decision and her dreams for the future: "We sat down and talked about it. I told her that if she didn't do it, she could live to regret it. I don't want her to live a life full of regrets."