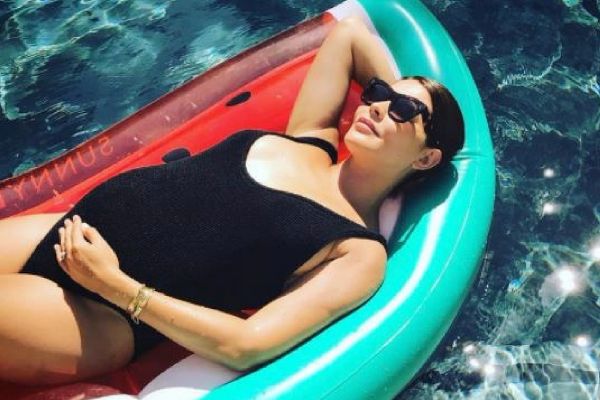 Model Danielle Bux has welcomed a baby girl. She broke the news on Instagram with a snap of her older daughter Ella,15, holding the little one's tiny hand.
She wrote: "Sisters. Our baby girl has arrived. Romy Wren Greenwald. A whopper, as expected. 8.5lbs. 8/8/17".
Her fans and followers congratulated Danielle on her new arrival and her ex-husband Gary Lineker also offered his best wishes.
Gary, who remains close friends with Danielle despite their split wrote: "Congratulations to you both. Chuffed for you x".
Danielle even stayed with her former husband while on a visit to the UK earlier this year and he also accompanied her on a trip to view houses for her growing family in LA.
Romy is Danielle's first child with her lawyer boyfriend Nate Greenwald. She is already mum to teenage daughter Ella Willis, from a previous relationship.
Danielle met Nate after she moved to LA following her split from her husband of six years. She moved in next door to him and they soon fell for each other.
In February, it was announced she was expecting his child and she confirmed the good news with a bump photo on Mother's Day.
A source told The Mirror at the time: "She is thrilled and so excited she's pregnant.She's been keeping it a secret until she was over 12 weeks but now she's telling family and friends.
"She thought she might have missed her chance to have any more kids".
As her due date approached, Danielle revealed that she was keen for the baby to make her entrance into the world.
"I've loved the guilt free chocolate fudge cakes, doughnuts, milkshakes, pancakes, pizzas, pasta, etc. but really would like this baby to show its face soon #abouttime #bigmama," she joked as she shared a photo of her blossoming figure.
She looked radiant as she posed with her bump on display.
Congrats to Danielle and Nate – such an exciting time ahead for them.