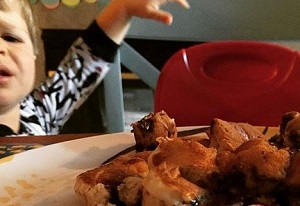 Many of us can admit to being parents to fussy eaters, and if this applies to you, then you will absolutely love this latest Instagram phenomenon.
The 'My Kid Can't Eat This' account has been sharing parents' photos of the foods their little ones turn their noses up at, and it is entertaining mums and dads everywhere no end.
Many of you will be able to identify with what's going on in these hilarious Instagram posts, as parents from all over the world share the unusual and downright hilarious reasons why their kids simply cannot eat certain foods.
Whether it's a matter of being presented in the wrong bowl or not being absolutely covered in ketchup, the reasons why our mischievous little ones won't eat their meals are classic.
We're sure many of you can identify with the author of the latest post on the page, which shows a container of peaches. The caption reads: "#MyKidCan'tEatThis because he doesn't want these peaches. He wants the "other" peaches. These are literally the last peaches in the pantry – Carey Haworth."
Despite the fact that the account was only set up less than a fortnight ago, it has already become an internet hit, racking up almost 11,000 followers already.
The way these posts are going, it looks like we're going to get hours of entertainment from this!