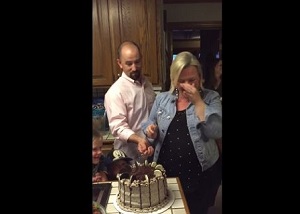 Learning the gender of your unborn child, and sharing the news with the world, has become one of the most exciting parts of baby's arrival in recent times.
Furthermore, making the big reveal by cutting into a cake, to reveal either pink or blue filling inside, has become one of the most popular ways of making the big announcement.
So, while the Lair couple were right on-trend with how they unveiled the sex of their seventh child, this mum's epic reaction is so fantastic that it has turned her into a viral internet sensation.
Bear in mind as you watch the video below, that the Lairs are parents to six sons.
What will it be next, do you think? Find out below.