Talk about taking a pact seriously!
Kimberley Dean and Ron Palmer were in high school when they became close friends- that was 37 years ago and now they're tying the knot.
"Ron was talking about all his benefits through work and not having anyone to give them to" Kimberly to The Star Tribune. "Just jokingly, I said, 'The last one who turns 50, which would be me, if I'm not married and you're not married, we're just going to marry each other.' He said, 'Done!' — never imagining any of this would happen."
The best friends of nearly four decades are now going to be husband and wife after an intimate garden ceremony. It actually sounds like something out of a rom com.
The pair had briefly dated in high school but had gone their separate ways. Despite both moving away and marrying they stayed in constant contact.
"I wanted to go sow my oats, so to speak. So we went our separate ways," Ron recalled. "By the time I felt like maybe we should give it a try again, she had met somebody else and got married and then I went off and got married."
High school sweethearts make good on pact to marry at 50 if still single #MorningBoost pic.twitter.com/KAptpVTsVn

— TODAY (@TODAYshow) 5 June 2018
Ron's marriage lasted 7 years and Kimberly's a bit longer. Her two children played central roles in the wedding with Kayla as maid of honour and son Konner walking her up the aisle.
After his divorce Ron started dating again, but for Kimberly it didn't feel right so she focused on her children and her career.
"He would call if he had girl trouble. I would call him to take a dead hamster out of my son's cage because I didn't want to touch it," she revealed.
"I don't think six months ever went by in all this time that we weren't in contact," Ron added. "She helped me a lot. After my marriage and with me having numerous girlfriends over the years, I would always call Kim when I had something to complain about: 'Why do women do this?' She was my go-to person."
But underneath the pretence of friendship was a deep connection between the two.
"I think we both knew, even in high school, that we were supposed to be together," says Kimberley.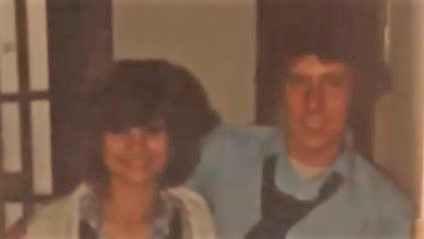 "I truly did love her back when we were kids. I've always loved her. She's such an awesome friend," Ron agreed.
The pair started contacting each other more frequently in 2016, when Kimberly remembered a pact they made as teenagers. Just months later, Ron proposed.
"It felt like it was supposed to happen, like it was meant to be," Kimberly's daughter Kayla Dean, explained. "I would say there's no better match in the world for either of them."
She sees an important lesson in her mum's romance.
"Out of everyone my mom has ever been with — even thinking about my dad, who we don't have a relationship with — I would say Ronnie has filled that father role for Konner and me" she said. "People who are meant to be together will always find each other. It may take 37 years, but it can happen."
Really makes you think that some people are just meant to be!