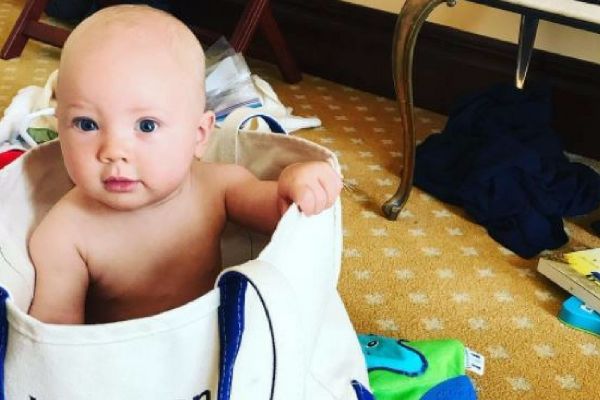 Pink's nine-month-old son is sporting a new "grown-up" look these days. While little Jameson may not yet have much hair on his head, he does have a very impressive moustache!
Yep, the little guy has his very own 'facial hair' attached to his dummy, and he looks so cute with it!
Pink's husband, Carey Hart, showed off a photo of little Jameson looking content while sucking on the dummy, as he rocked his new look. "I am Senor Jameson," he wrote underneath.
Fans of the couple were very impressed by little Jameson's new 'moustache'!
"He needs the glasses like Carlos on The Hangover! Hahahaha," one responded, while another wrote, "Coolest kid on the block."
Little Jameson is certainly growing up fast, despite the facial hair being fake!
Pink recently shared a photo of the tot grinning as he stood up, holding onto a table for balance. The cheeky youngster looked delighted with himself for achieving this epic feat!
Pink is never afraid to share her personal experiences of motherhood on social media, and unlike other celebrities, her photos and posts are always relatable - such as that time she found a dummy in her sports bra, or her nursing bra selfie.
The So What singer posted a photo of a funky-looking dummy in the shape of a mouth with silver teeth, adding: "When you're undressing after hot yoga, and a pacifier flies out of your sports bra… so that's where it went!"
Recently, she also posted a selfie of herself in a nursing bra while she pumped breast milk for Jameson. The mum-of-two wrote, "Pump up the jams", as she posed in front of her makeup mirror.
Fans praised the singer for sharing such a personal photo, to normalise breastfeeding. "OMG OMG! I just love you for this! Thanks for sharing the real mommy lifestyle," one follower wrote.
Another mum replied: "Wow! Supporting breastfeeding!...yeah!...love you Pink for this. I am also a mom and love breastfeeding."
We love Pink and Carey's approach to life and parenthood. They're never afraid to have a laugh, and they make their parenting journey look so much fun!