If you thought you couldn't love Rachel McAdams any more, then you're wrong.
The 40-year-old gave birth to her first child, a son, in April and is basking in the glow of new motherhood.
The actor welcomed her bundle of joy with her boyfriend, screenwriter Jamie Linden, who she has been in a relationship for more than two years.
And now she has shown how, even if you're an A-List celeb, motherhood is still motherhood.
Rachel was doing a photo shoot while also breastfeeding her eight-month-old baby between shots.
As you do.
The critically acclaimed actor looked sensational in the shoot, sporting Versace, Bulgari diamonds and a double breast pump.
The stunning snap was posted to Instagram by LA-based founder and editor of Girls. Girls. Girls. magazine Claire Rothstein.
She captioned it, ''this shoot was about 6 months post her giving birth to her son, so between shots, she was expressing/pumping as still breastfeeding. We had a mutual appreciation disagreement about who's idea it was to take this picture but I'm still sure it was hers which makes me love her even more.''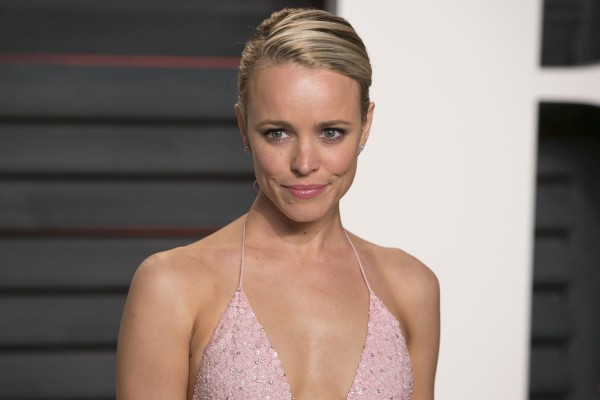 She continued, ''Breastfeeding is the most normal thing in the world and I can't for the life of me imagine why or how it is ever frowned upon or scared of. I don't even think it needs explaining but just wanted to put this out there, as if it even changes one person's perception of something so natural, so normal, so amazing then that's great.''
She added, ''Besides she's wearing Versace and @bulgariofficial diamonds and is just major.''
Rachel has shown that breastfeeding is a completely normal and natural thing that comes with motherhood and she is not afraid to openly embrace it.
People were in awe of Rachel and took to the comments to say so.
One wrote, ''Thank you for taking/posting this, and thank you to #rachelmcadams for normalizing pumping. This motivates me to keep going!''
While another said, ''Absolutely incredible shot and such an important message behind it!''
We're so happy that breastfeeding is being normalised and celebrated - well done Rachel.