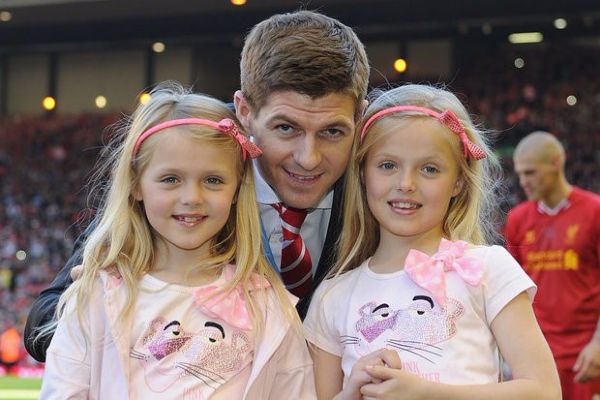 Steven Gerrard has left a football career behind him, and is showing his true colours - as a professional dad (and a fantastic one, at that!)
The 36-year-old recently shared a sweet photo of his four gorgeous children, including his two-month-old son, little Lio.
The ex-England captain's photo shows his three blond daughters doting on their precious baby brother, with a cheeky caption.
"Looks like his ironing and washing is sorted when he gets older," he wrote, and he's not wrong.
With three beautiful daughters already, Steven was gunning for a son (and future football star, no doubt).
Back in November 2016, Steven's gorgeous wife Alex, 34, announced that the couple were expecting a fourth child.
And when the little bub finally arrived in May of this year, Steven could not contain his excitement as he shared via social media: 'It's a boy!'
The former Liverpool star gushed to his 6 million followers about Alex, and their new son: 'Both are doing great . Our family is complete.'
Can you say 'awwww'?
Alex had previously admitted that her husband had been hoping for a boy after his daughters, revealing: 'I know Steven has said before he would like one, but the chances of us having one is slim with having three girls.
The cute family picture was uploaded by Steven yesterday, and has already amassed over 162,000 likes.
Hundreds of people have commented on how lovely the photo is, with one fan saying "Absolutely beautiful photo!"
Some, however, have called out the doting dad for his "sexist comments" about ironing, and women.
What do you reckon, mums? How cute is this photo?