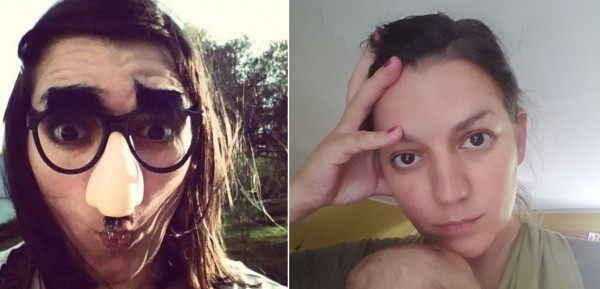 Some days are better than others, some days everything moves along slowly but surely, and we get to the end of the day without a blip.
It's a rare miracle, but it happens.
Other days; everything our children can do to test our patience and see how far they can push us, they will do.
And most of the time they unfortunately succeed at a rapid pace.
But we always tend to pretend everything's fine; we're totally not crumbling under the pressure of trying to care for three kids who might as well be in different time zones because of their age gap.
But Sarah Cottrell of Housewife Plus is not hiding behind that facade.
The mum-of-three took to her blog to tell us exactly what gets her through the muggy days where sometimes you feel as though you're constantly on the back foot.
Posting a photo of herself in that moment, Sarah tells us she was trying to not pull her hair out:
"I have been trying to finish the laundry I started yesterday and do the dishes (we don't have a dishwasher because I AM THE DISHWASHER.)"
"My oldest son is bouncing off the walls (literally, there is a frigging dent in the wall), my middle wild child just bonked his head while spelunking in the linen closet and now has an ice pack on his developing egg"
"And the baby is either starting to teeth or is testing out the theory that if she screams loud enough and for long enough that I will actually cry."
Sound familiar? Life for parents is tougher than you'd expect, it's a constant whirlwind of emotion that tests your patience to the limit, and you can't even find the time to shower, so is it even worth it?
"I don't feel blessed in this moment. I feel frustrated and tired. But that's what parenting is, right? It's this crazy journey that is mostly rewarding but pock marked by sh**ty days like this one."
"I file these moments away in my heart for when I need to remind myself that I am only one person. Like every other mom, I am trying my best to do this right. And I totally screw it up at least a dozen times a day."
Everyday is a battle, but sometimes as Sarah alluded to, we need to remind ourselves that we are only one person who is responsible for an army of little ones, its tough work, but incredibly rewarding.
"I won't ever colour neatly inside the lines of motherhood, but I love my kids with all my heart."
"And right now while the sink is full of dirty dishes, at least one kid is whining, and I smell faintly of pee and spit up, that big feeling of love is all I got. And I call that a win."
And to us that is the biggest win there is, unconditional love at it's best.