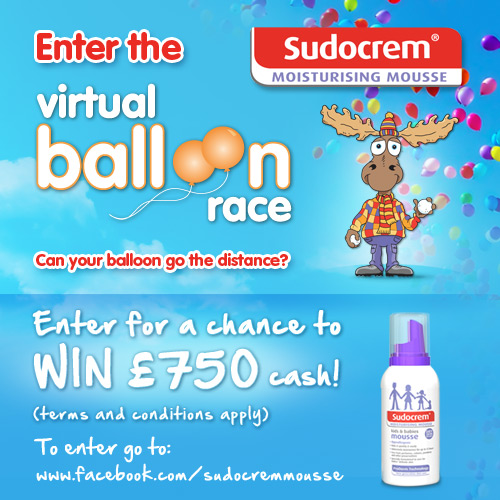 Sudocrem Mousse has launched a fantastic competition, the World's first Facebook Virutal Balloon Race, and is offering one lucky winner the chance to get their hands on £750 in cash in time for Christmas.
Entrants join the Virtual Balloon Race by visiting
www.Facebook.com/SudocremMousse
, clicking the Balloon Race App, then following simple instructions to release their balloon to the millions of potential sharers on Facebook. The aim is to get as many 'balloon shares' as possible. The most 'balloon shares' wins the cash!
Sudocrem Mousse's Virtual Balloon Race will be completed on 21st December 2012. It's free to enter and easy to play with a great prize for one winner.
Follow these simple steps to enter:
Step 1: 'like' the www.Facebook.com/SudocremMousse page
Step 2: Select the Balloon Race app (note: cannot be done through a Facebook Smartphone app) and select a balloon design, then complete your contact details.
Step 3: Once this is complete, you will be presented with a page showing a 'big red button' labelled 'Release My balloon to my friends NOW'.
It's that simple! So get entering now and be in with the chance of winning £750.