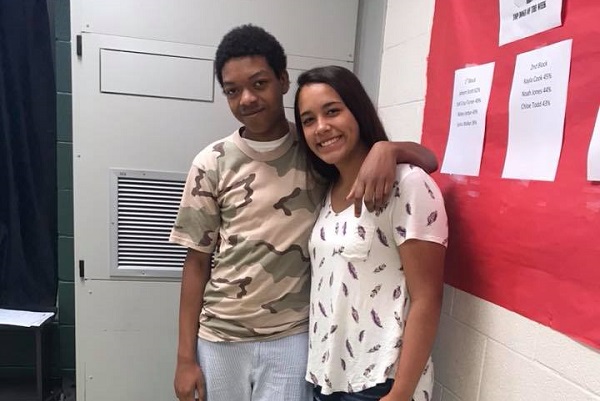 High school student Sofi Cruz Turner just got her first part-time job.
But instead of spending the money on herself, she wanted to do something nice for her friend and classmate.
Speaking to Love What Matters, Sofi explained that Jaheim has always been the most enthusiastic student in class.
"He has always been that one student where he does all of his work when due, never misses school, always helping the teacher out with stuff in class, and always being a happy human being."
Last week in class, Jaheim dropped a hint that he needed new shoes.
"I've always thought about getting him something before but never had the money or the gut to do it," Sofi explained. "Since I've gotten a job and have been working really hard, I got the money together and bought him a pair of shoes the next day. My mum and GranDaddy helped out as well."
Her classmates videoed Jaheim's sweet reaction to the gift.
"I've known you for a very long time — since third grade. And you are very special to me," Sofi says in the short clip. "You are a very good friend to me. And, since I got a job, I've been thinking about getting something special for somebody, and this is for you," she said, handing over a backpack with shoes, socks and new clothes.
For Sofi, seeing Jaheim so happy with his new shoes was one of the greatest feelings.
"Seeing him crying was very emotional because I could see that he was didn't know what to think. I am so thankful to know that giving Jahiem those shoes made him so happy and allowing me to realise that giving someone something so special can be life changing."
We're not crying you're crying!