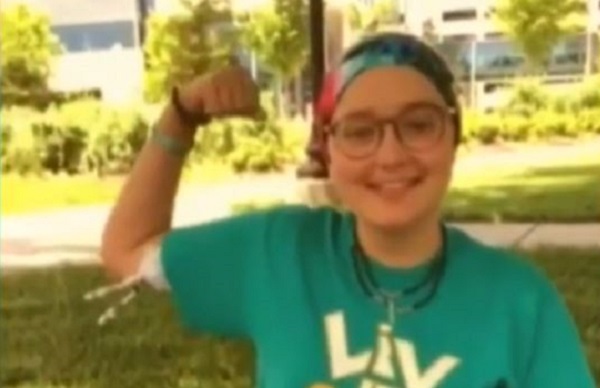 At just 14-years-old Olivia Stoy is facing death for a second time. The Indiana native was just twelve when she was diagnosed with a rare form on bone cancer- T-Lymphoblastic Lymphoma.
She has been told that she will die unless she gets a bone marrow transplant. Fortunately her brother is a perfect match to be a donor but her insurance won't cover the $900,000 procedure.
The family negotiated the price of the surgery down to $350,000 thanks to cooperation with doctors- but it has to be paid in full before her surgery in July.
So the tenacious teen has taken matters into her own hands. With the help of a local jewellery designer, she created her own bracelets- the proceeds of which will go towards her surgery.
"Olivia's a very special girl," designer Emily Bryan told local media. "She's very sensible, very strong. She has always maintained a smile on her face and it was really fun to see her excitement in designing."
They called the bracelet the Lava Liv- as it's made of Olivia's favourite colours and lava beads. The colours are to "make you fee happy" and can be used to diffuse essential oils, something that Olivia uses during chemotherapy.
The beads are tied together with a gold band, representing childhood cancer.
"When you showed me that first picture, I was so excited," Olivia told Bryan in an interview. "I hope that everyone who gets a bracelet enjoys it and feels strong and confident while wearing it."
While the amount she needs to raise is daunting, Olivia is still optimistic.
"I know that we'll reach it," she said. "I'm so thankful. I'm looking forward to being more active and getting back to the life that I had."
To see Olivia's GoFundMe page see here.