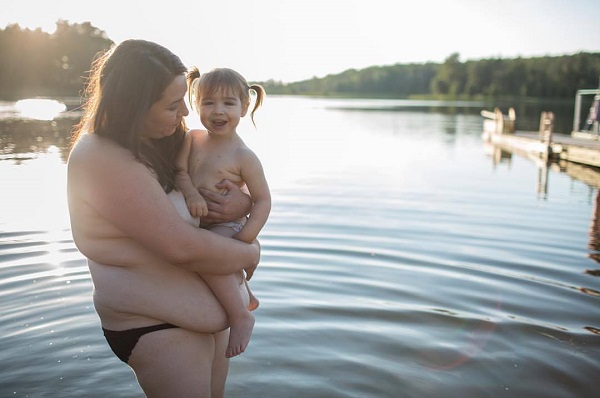 Aimee and Jenna Hobbs love their jobs as professional photographers. But recently, they started noticing a worrying trend- more and more mums wanted to be left out of family photos.
Speaking to Popsugar, Aimee, from Alberta, Canada, admits that mum's lack of self-confidence upset her- so the pair decided to do something about it.
They started a project called "A Mother's Beauty" to celebrate mum's postpartum bodies in all their glory.
"Initially, we came up with the idea to photograph women's postpartum bodies because of our work photographing families," Aimee explained.
"We had numerous conversations comparing notes about how although mums were often the driving force behind wanting to have their family photographed, they seemed to be the ones who were the most daunted at the prospect of being in front of the camera. We were frequently asked to make them look thinner, to photoshop them to remove their tummy, hide their chin, thin their arms. The list goes on."
She also believes that there's an increasing number of mums who refuse to go in front of the cameras at all.
"We were also seeing a growing number of mums who didn't want to be included in their session and say they only wanted pictures of their children."
Aimee herself is a mum of two and has two step-children while Jenna is a mum of five, so they decide it was time that mums and their bodies deserve the limelight for a change. They are, after all, a big part of their children's lives.
"Us mums are usually the centre of our children's world, and it really worried us that so many mums were removing themselves from their family's visual diary," she continued. "We never know what life will bring, and someday those images are going to be so, so important to your children and your grandchildren."
Authenticity was paramount to their series, they wanted to show real women with real bodies- something not often see in today's photoshopped and filtered society.
"Authentic images of what women's bodies really look like are not often seen. We decided that we would photograph real mothers of all shapes and sizes in the hopes of showing mothers just how incredible they are and that there really is beauty in the perfectly imperfect."
They hope that the series will inspire other mothers to embrace their bodies.
"We've definitely learned that no matter how alone we may feel in our struggles, we're more the same than we are different. And by sharing your own story, you will be helping another mother out there who is in the same place as you."
Check out some of the gorgeous pics- we'd nearly be tempted to strip off ourselves!
Follow Hobbs photography on Facebook here.
Pregnant? Get MummyPages' new updates via Messenger: mumy.me/preggers.