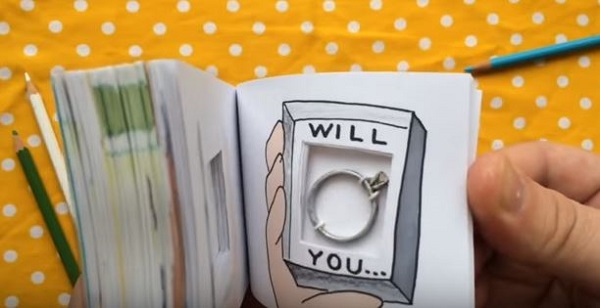 When it comes to marriage proposals, the more creative and romantic, the better – and this couple's engagement has left people all over the world truly stunned.
Alexa and Rodney shared their love story with wedding website HowHeAsked.com, with the wife-to-be revealing that her other half popped the question with a flip book! In case you're wondering, a flip book is basically a book of pictures which, when you flip through them, play out like a cartoon story.
Recounting the gorgeous moment for the website, Alexa revealed that Rodney chose a lights festival for the momentous occasion, telling her that he needed to give her her 'Christmas present', and handing over the flip book.
The book shows an animation of the couple in the park, throwing a ball with their dog. When the dog returns, however, it's a ring box that's in his mouth! When Alexa reached the end of the book, she found her engagement ring attached to the back cover. Could it get any more creative or romantic?
This is definitely worth checking out – watch it below and be amazed.
SHARE to inspire a loved one who is planning a big proposal soon.