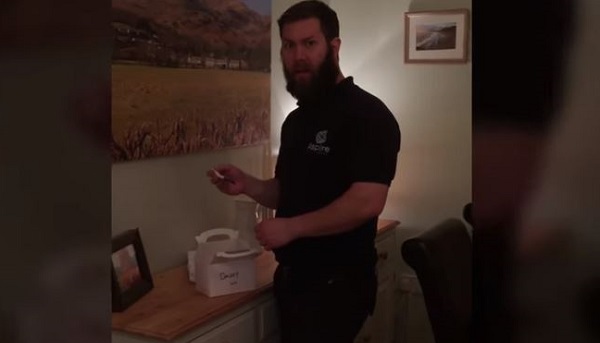 A pregnancy announcement is an emotional thing, especially between the mum-to-be and her partner, and we are well used to seeing tears of happiness in those heart-warming viral videos.
There were no tears when Beth Wilson surprised husband Jamie, however – just a lot of confusion and a few expletives thrown in for good measure!
The Wiltshire couple, who are parents to two-year-old son Eli, have faced many difficulties in the path to creating their much-longed-for family. A year after tying the knot, the Wilsons started trying for children, and it took seven years of IVF for them to conceive their precious son.
After Eli's birth, in 2013, the couple decided that they wanted to give Eli a baby brother or sister. They geared themselves up to start the whole process again, and after two failed IVF attempts they were facing into yet more fertility treatment – until Beth started to feel a little queasy, and decided to take a test.
The delighted mum was over the moon to discover that she was indeed pregnant, and she decided to film herself breaking the good news to Jamie.
While Jamie regaled her with the story of how he had discovered a dead deer in the road that day, Beth filmed him opening a box which she pretended was a homemade present from their son. When Jamie opened it, he found a positive pregnancy test inside – but he didn't quite match up all of the dots immediately!
"What's this? What does that mean? What? I'm confused!" Jamie is heard saying, before breaking into laughter and begging her not to share the footage online.
Unluckily for Jamie, Beth went on to send the video in to South West News Service – and it has been delighting people all over the internet ever since!
This is exactly how our other halves would have reacted!
SHARE to give someone a bit of a giggle today.