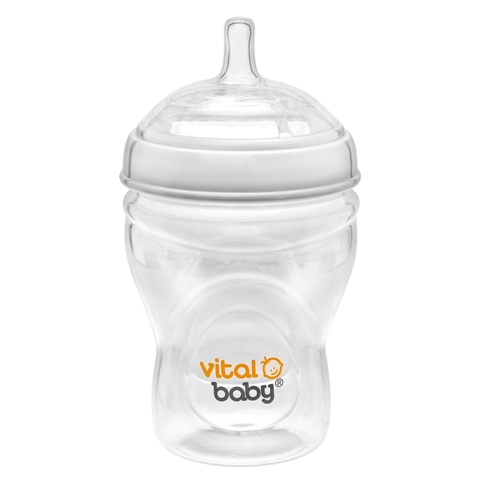 Vital Baby has launched their new Nurture range, a collection of baby feeding essentials that have been especially designed to support breastfeeding mums and families.
The flagship product of this new range is the breast-like bottle and teat (clever idea!) which, thanks to its FlexZone technology, is a feeding product unlike any other. Along with the bottle, trusted brand Vital Baby are launching a wide selection of accessories such as microwave steam steriliser, bottle and teat brush, breast milk storage system and milk formula dispenser.
Breast feeding has so many benefits, but often for convenience mums need to express their milk, so dad can help with the feeding. However switching from breast to bottle and back again can be confusing for baby. This entire collection from Vital Baby has been created to make feeding as easy as possible for mummy, daddy and baby. The breast-like bottle makes the switch from breast to bottle and back far easier. So mum doesn't have to be there for every feed.
The bottle is made from medical grade silicone so they are as natural and similar to a breast as possible. The teats are super soft so as not to hurt baby's gums. The unique FlexZone technology also means the teat stretches and adapts just like mother's breast. Unlike other bottles, the nipple shaped teats have been designed to be wide as well as flat, like a real nipple.
There is also an advanced sensitive anti-colic AirFlow system so there is less risk of baby swallowing air during feeding. The wide neck allows for easy filling and cleaning, and the shape of the bottle makes it comfortable to hold. As with all Vital Baby products, the Nurture collection is entirely BPA free.